"Quick summary" The frozen yogurt industry is on the rise and has no signs of slowing down.
As per the MarketWatch report, the worldwide frozen yogurt market was valued at USD 1473.8 million in 2022 and is anticipated to reach USD 6054.5 million by 2029, witnessing a CAGR of 22.1% during the forecast period 2023-2029.
Considering the whopping numbers and popularity of this healthy yet delicious dessert, more and more business owners are luring towards this profitable business idea.
This leads to more demand & increasing competition - don't you think the same?
Suppose you are also looking forward to opting for this profitable business idea. In that case, you need to take the road less taken and establish a solid USP that helps you stand out from the crowd and contributes to the success of your frozen yogurt business.
So, to solve your question on how to start your frozen yogurt business, you can check out our comprehensive guide in which we unfold the ultimate checklist while addressing some of the frequently asked questions.
Let's get started!
How to Start a Frozen Yogurt Business
To start a frozen yogurt shop, there are some important initial considerations that you need to keep in mind to get the basics covered.
These basics will give you a comprehensive overview of getting started with the frozen yogurt business.
The basics usually cover the following:
General Business Overview
Industry Summary
Industry Trends
Target Market
Assessing Skills, Education, and Knowledge
All this information gathering and a basic overview will give you a headshot on getting started and setting it up for success.
Business Overview
A frozen yogurt shop is a haven for all the dessert lovers out there, offering a diverse variety of yogurt treats enriched with interesting flavors and toppings to choose from.
Customers can indulge in their favorite frozen yogurt flavor, whether it's classic vanilla, rich chocolate, tangy fruit flavors, or innovative options like salted caramel or matcha green tea. (These are some of the trendiest ones, but don't forget to be unique and amaze your customers).
To add some required fun and deliciousness to the frozen yogurt, the shop even provides a diverse selection of toppings, ranging from fresh fruits and crunchy nuts to indulgent candies, cookie crumbles, and chocolate sauces. It allows customers to customize their yogurts while satisfying their unique cravings.
In addition to the tempting yogurt treats, a frozen yogurt shop may offer a variety of beverage choices to complement the desserts and offer a range of options to the customers. It includes refreshing iced teas, flavored lemonades, and even specialty coffee drinks. Yogurt shops even provide other sweet snacks, such as freshly baked cookies and soft-serve ice cream.
So, all in all - a frozen yogurt shop is a delightful destination for individuals looking to have a tasty yet healthy dessert experience. With an extensive range of flavors, fun incorporation of toppings, and some possible alternatives, it aims to create a joyful and satisfying treat destination for customers of all ages.
Industry Summary
Make sure you thoroughly research a business venture before starting your frozen yogurt shop. Therefore, in order to proceed with the idea, you must carry out a thorough market analysis and include the research findings in your business plan.
Google Maps and Search: Go to Google and compile a list of all the dessert stores in your region. Compare other items that compete for customers' dollars in the dessert and snack markets as well, not simply frozen yogurt establishments.
Visit Your Competitors: Invest time in getting to know the competition. To observe how busy these places are, go there during peak hours and even at odd times. Keep track of all the data you have gathered and make a note of the pros and cons of each company and what difference you can make to stand out.
Poll Potential Customers: Ask people in your region if they would visit a dessert shop similar to the one you intend to open. This kind of quiz can be completed in person, online, or in social media groups. To make subsequent decisions, organize and evaluate their responses.
Industry Trends
Frozen yogurt is among the most popular dessert option ideas - that is quite trending among customers. And it is delectable, cool, and an ideal dessert option for a hot summer day.
To make the most of shifting consumer preferences, you must keep up with changes in the industry if you're thinking about starting your own frozen yogurt shop. It will increase your chances of success and help you keep one step ahead of the competition.
It's not necessary to follow all of the most recent trends after you've learned about them. Be particular about your target audience and then develop a strategy to maximize the benefits.
Here are some of the tips you need to keep in mind to stay updated:
Stay informed through publications and websites.
Attend trade shows and conferences to learn about emerging trends.
Conduct market research to understand changing consumer preferences.
Monitor social media and online communities for trendy insights.
Network with professionals in the same industry.
Get customer feedback to identify emerging trends.
Embrace innovative flavors and health-conscious options.
So, implement the (right) trends and grow.
Target Market
Before starting a frozen yogurt business, you need to research your target market very well.
And as a result - the consumer segment(s) you decide to target will have a significant influence on the kind of frozen yogurt business you operate, along with the menu and its pricing. So, to better understand, let's use a straightforward example: families would react differently to marketing promotions than freshmen in college.
Try to segment your target market based on their psychographic and demographic characteristics. To find accurate customer demographics, find out about the age, gender, localities, and income levels of the prospective clients you are hoping to draw.
The better you are at identifying and defining your target market's requirements, the more successful you will be at drawing in and retaining clients.
Skills, Experience, and Education Useful in Running a Frozen Yogurt Shop
As we mentioned earlier, getting started with the frozen yogurt business is not an easy feat. (Not any business, for that matter). Being a startup owner, you need to master so many different things. Several specific skills, expertise, and Knowledge are required to open a frozen yogurt shop.
Experience:
Food Service Experience: You need to have prior experience in the food service industry.
Customer Service Experience: I also need to have experience in customer service roles, which includes handling customers, their inquiries, and even after-sales services.
Management Experience: Experience in a management position, such as supervising a team or overseeing a food establishment, along with staff, inventory, and overall business management.
Skills:
Customer Service Skills: Customers are at the center of any business. So it's good if you possess exceptional customer service skills.
Operations Management Skills: Strong operations management skills are essential for overseeing daily frozen yogurt operations, coordinating with suppliers, managing inventory, and maintaining an efficient store environment.
Marketing and Promotional Skills: To get started, it is recommended that you have a basic knowledge of effective marketing techniques, such as social media marketing, local advertising, and promotional strategies.
Financial Management Skills: Understanding basic financial concepts is important for maintaining profitability and sustainability in your frozen yogurt shop.
Knowledge:
Latest Market Trends: For your business's road to success, you should be familiar with the latest frozen yogurt industry trends and target market preferences.
Food Safety and Sanitation Regulations: It's better if you have basic Knowledge of food safety regulations and proper sanitation practices for ensuring high-quality food handling and preparation.
Supplier and Ingredient Knowledge: Generic understanding of sourcing and checking the quality of ingredients for maintaining product consistency and meeting customer expectations.
Checklist for Starting a Frozen Yogurt Shop
After you have got the basics covered and done your comprehensive research about the industry insights, industry trends, target market, and other crucial requirements - now is the time to take action.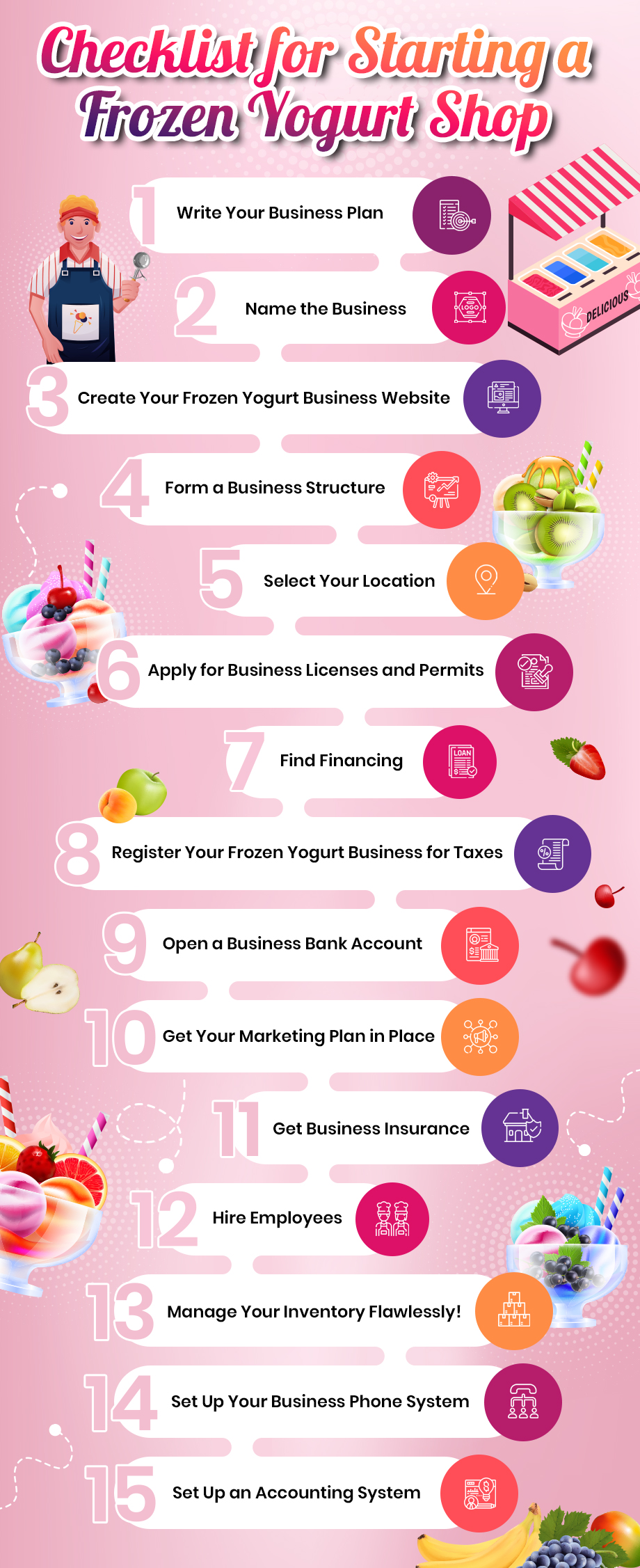 The action process includes the 14-step checklist - right from writing a business plan and preparing a website to hiring the staff and writing a marketing plan.
This ultimate checklist will guide you throughout the starting phase and will further help you set up your business operations and other things around.
Step 1: Write Your Business Plan
Writing a business plan should be the next step after coming up with the concept for your frozen yogurt restaurant.
The business plan will require you to concentrate on certain crucial elements of the company, like your target market, your strategy for reaching them, your rivals, how you plan to handle expenses and sales projections, your value proposition for marketing, and more. You'll also need to perform some study to determine your beginning expenditures and recurring expenses.
According to numerous studies, having a strong business plan boosts the likelihood of launching a successful company. Writing the plan assists you in considering all facets of the business and then acts as a roadmap once you start.
Step 2: Name the Business
It's crucial to pick a name for your company that will stick in people's minds and accurately describes the kind of enterprise you are running. Additionally, it should be simple to remember and communicate. We advise keeping a name that evokes a positive feeling or emotion, like joy, enjoyment, or excitement.
Also, confirm that no other business has a similar business name as yours. You can do the online research by conducting an online search or by reaching out to your neighborhood business registration office.
Once you've decided on a name for your company, you must register as well. This process ensures that your company name is legally protected and that no one else may use it.
After registration, you are free to utilize this name for all of your company documentation and get started with your frozen yogurt business.
Step 3: Create Your Frozen Yogurt Business Website
Another crucial step in the checklist for starting your frozen yogurt shop is to create an appealing and user-friendly website for your customers.
Your business acts as a digital storefront - through which customers can get to know you better and even order online(if you are willing to offer the option of online delivery). It even helps you increase customer satisfaction and encourages conversions.
By making it easy for visitors to navigate, find information, and place orders, we enhance their overall experience and build trust in our brand. A user-friendly website reflects our commitment to customer satisfaction and helps you stand out from competitors, ultimately driving more customers to your frozen yogurt shop.
To develop a user-friendly website for your business, we recommend hiring a skilled web designing company that will help you with website development services.
Step 4: Form a Business Structure
The next crucial step in this checklist to get started with your frozen yogurt business is forming a proper business structure as per your business structure. It is among the crucial initial steps that lay the foundation for your business. So, make sure you consider your requirements, such as the number of individuals involved, funds, taxes, management, etc., and then choose an ideal business structure.
Here are some of the common types of business structures you can choose from:
Sole Proprietorship: It is the simplest and most common form of business ownership. As a sole proprietor, you will have end-to-end control over your business. But, in this, you also need to bear full personal liability for any debts or obligations.
Partnership: A partnership involves two or more individuals who share ownership and responsibility for the business. In this type of business structure, all partners share the profits, liabilities, and management duties in their pre-decided proportions.
Limited Liability Company (LLC): An LLC is yet another popular type of business structure. It provides limited liability protection to its owners, and the personal assets of all the involved members are thoroughly protected from all business liabilities. It even offers flexibility in terms of management and tax alternatives.
Corporation: A corporation is a separate legal entity from its owners, known as shareholders. It also provides shareholders limited liability protection, implying that their personal assets are not at risk. Nevertheless, it generally has a more complicated business structure as compared to other structures.
Quick-Tip: It is generally recommended to hire a professional to look into this matter and take a suitable decision.
Step 5: Select Your Location
To get the most out of your frozen yogurt business, you need to select the most beautiful and appropriate location. The decision to choose the location will make or break your business, as it directly impacts customer reach, foot traffic, and overall success.
You also agree on the fact that: a prime and interesting location draws prospective customers and tempts their taste buds to visit your frozen yogurt business leading to more conversions, sales, and revenue.
As per your target audience, you need to choose the location accordingly. You need to consider all the essential factors, such as demographics, competition, accessibility, and visibility. But keep in mind that the location you choose - should attract them to step inside and experience the deliciousness of the yogurt you have to offer.
Step 6: Apply for Business Licenses and Permits
To lawfully operate your frozen yogurt business, you'll need to get licenses and permissions from state, local, and federal governments.
Before launching your frozen yogurt business, you will likely need to obtain the following licenses and permits:
Business License
Permit For Health and Safety
Food and Beverages Handler's Permit
Signage Permit
Zonal Permits
You must have a music license to play music.
If you want to provide outdoor sitting, you need sidewalk permits.
Sanitation permit for frozen yogurt
To start a frozen yogurt business, it's crucial to conduct your study because state licenses and permissions differ from state to state and country to country.
It's possible that you will still need to apply for permits from local governments if you plan to open a frozen yogurt shop in a state where no particular licenses or permits are needed. It's also crucial to be knowledgeable about regional and local health laws. For instance, frozen yogurt must be produced in California using whole milk and enriched with protein, calcium, and vitamin D.
Step 7: Find Financing
Starting your Frozen yogurt business requires staff, location, licenses, insurance, and equipment - in order to avail all of that - you need money. And, in order to start a frozen yogurt business at a prime location and with all the equipment and aesthetic furniture - you will need a significant amount of investment.
To get a full guide on the cost of starting a frozen yogurt shop, check out this detailed blog.
Personal savings and bank loans are among the popular ways to get started with the frozen yogurt business, but there are some other popular ways as well to source the finances for your startup. And it is also crucial to check out all the available financing options to choose the right deal.
Check are some of the most common financing options:
Funds from personal savings and the sale of personal stocks and properties
Raising money from investors and business partners
Applying for a traditional loan from a bank or banks.
Getting a small business loan from banks
Avail soft loans from your family members and friends.
Business Credit Cards
Ask venture capitalists.
Evaluate every possibility and make the right decision for your business.
Step 8: Register Your Frozen Yogurt Business for Taxes
Another crucial step you need to consider for your frozen business checklist is to register your business for taxes and ensure compliance with legal needs and ensure seamless operations. Registering your business for taxes involves getting all the required permits and licenses.
It includes:
Federal employer identification number (EIN)
State tax identification number
And other local business permits.
This comprehensive procedure will help you accurately report and remit taxes, such as sales, income, and payroll taxes. By properly registering your business for taxes, you can avoid potential penalties, maintain financial transparency, and showcase your commitment to operating a legitimate and responsible business.
Quick Tip: It is recommended to consult with a professional or local tax authority to ensure compliance with specific tax regulations and to avoid any problems later on.
Step 9: Open a Business Bank Account
To manage your funds and cash flow for your frozen yogurt business, you need to open a bank account with a reliable and trustworthy bank. It provides a distinct identity for your enterprise and offers several advantages that promote smooth financial management.
By establishing a business bank account, you get the ability to track and organize your business transactions efficiently, ensuring accurate bookkeeping and simplified tax reporting. It even helps you enhance your professional business image while dealing with vendors, suppliers, and customers effectively, as they can make payments directly to your business account.
Additionally, a business bank account even helps you establish a credit history for your business, and it will prove to be helpful when you are seeking loans or financing in the future. Keeping personal and business finances separate lets you maintain clarity, transparency, and financial stability within your frozen yogurt venture.
Step 10: Get Your Marketing Plan in Place
In order to reach your target audience, you should carefully plan your marketing strategy. Consider the locations and times that your target market will most likely use your product, then build marketing campaigns that target those regions.
In order to flourish as a business owner of frozen yogurt, your marketing approach must be very strategic.
Establish a Clear Vision: You can better focus your efforts if you have a clear vision for your marketing.
Put a Strategy Into Practice That Suits Your Brand: The brand and target market you are attempting to reach should be compatible with your marketing approach.
Create a Timeline: Creating a timeline will allow you to track your progress and ensure that you are fulfilling your objectives.
Track Your Success and Modify Your Plan as Needed: Once your plan has been put into action, you must monitor your results and make any necessary adjustments.
Keep Your Marketing Approach Flexible and Adaptable: As the market evolves, so should your marketing approach. Be Patient and Consistent: In order to produce results, an effective marketing strategy needs time.
Step 11: Get Business Insurance
After you have sought your marketing plan, don't forget to get business insurance to have a safety net and to operate within the law!
Business insurance safeguards your business's financial health in the case of a covered loss.
Several insurance policies are designed for various organizations with varying risks. If you're not sure what hazards your company might encounter, start with general liability insurance. It's a wonderful place to start for your company because this is the coverage that small businesses require the most frequently.
Workers' Compensation Insurance is another noteworthy insurance product that many businesses require. You must obtain workers' compensation coverage in order to meet your state's insurance requirements.
We suggest that you speak with a lawyer to learn more about the kinds of insurance your frozen yogurt company requires and how much it will cost.
Step 12: Hire Employees
Hiring skilled, experienced, and knowledgeable staff is also crucial for your frozen yogurt business and its efficient operations. The professionals you hire can have a significant impact on the overall success of your frozen yogurt business as they are the ones who are representing your store and are interacting with your customers firsthand.
They play a crucial role in offering top-notch customer service & support, while ensuring smooth and efficient operations, and fostering a positive work environment. Through careful evaluating and selecting qualified staff members, you can lay a strong foundation for long-term success in the frozen yogurt industry.
Here are some tips to keep in mind while hiring employees for your frozen yogurt business:
Investing the required time and effort in finding the right employees will pay off in the long run.
Look for employees who showcase strong interpersonal skills and a willingness to work in a team for satisfactory results.
Curate detailed and clear job descriptions that state the specific duties, required skills, and qualifications for each position to attract the right candidates for the role.
Conduct thorough interviews to evaluate candidates' relevant experience, problem-solving abilities, and their approach to handling customer inquiries or challenging situations.
Search for the profiles who possess relevant experience and skills in the food service industry or a similar customer-facing role.
Step 13: Manage Your Inventory Flawlessly!
Effective inventory management is crucial for the smooth operation of a successful frozen yogurt business. By carefully monitoring and controlling your inventory, you can ensure that you always have the necessary ingredients, supplies, and products available to meet customer demands.
With end-to-end inventory management, you can reduce wastage, prevent stock-outs or overstocking, and optimize profitability.
Efficient inventory management not only helps you meet customer expectations but also contributes to the overall efficiency and profitability of your frozen yogurt business.
For effective inventory management, make sure to choose a reliable POS system for your frozen yogurt business.
Here are some of the effective tips for managing a POS system for your frozen yogurt business operations:
Choose a POS system with robust inventory management features.
Set up automatic alerts for low inventory levels.
Regularly update your physical inventory with a POS system for the frozen yogurt business.
You can leverage barcode scanning for efficient inventory tracking.
Optimize reorder points and restocking schedules based on demand.
Train staff on properly handling your frozen yogurt business POS system for proper inventory management.
Step 14: Set Up Your Business Phone System
One of the crucial things you need to think about is getting a phone for your frozen yogurt business. It is among the finest strategies to maintain privacy and boundaries between your personal and work lives. Not only does it help you automate your business, but it also offers it credibility and trustworthiness and makes it simpler for potential clients to find and contact you.
There are numerous options available for business owners that want to set up a phone system.
The following advice should be kept in mind if you want to get the most out of your business phone system:
Select a dependable source that can match your unique requirements.
Think about the capabilities needed for your company's operations.
To prevent any future hassles, update and maintain your phone in a timely manner.
Give your staff the necessary instructions on operating the phone system to facilitate smooth customer communication.
Step 15: Set Up an Accounting System
Setting up an accounting system is a critical aspect of managing your frozen yogurt business effectively. An accounting system provides structure and organization to your financial records, enabling you to track income, expenses, and overall profitability.
Pick an Accounting Software: Select user-friendly accounting software, such as QuickBooks, Xero, or FreshBooks, to manage your business finances seamlessly.
Accounts Categorizations: Create a chart of accounts specific to your frozen yogurt business. This entails categorizing income and expense accounts to track each & every financial transaction accurately.
Get the Best-In-Class POS System for Your Yogurt Shop: Implement a one-of-a-kind system to track your frozen yogurt shop supplies and ingredients. You should go for the best POS system for the frozen yogurt business for end-to-end and effective inventory management.
Generate Financial Reports: Utilize the reporting capabilities of your accounting software to generate key financial statements to get insights into your business's financial health, profitability, and areas for improvement.
Seek Professional Help: If you can't deal with accounting all by yourself - you should consult with an accountant or bookkeeper to help you out with the same.
Conclusion
Here we are done with the comprehensive guide to starting a frozen yogurt business. Whether you are a budding entrepreneur or an experienced one - this guide has everything covered and will help you in setting up your business for success.
Right from writing the business plan and naming your frozen yogurt shop to preparing a marketing plan and hiring the best professionals - this ultimate checklist is all you need!
Amongst all these - providing a secure and convenient payment experience to your customers is more crucial than ever.
Choose the feature-rich and high-quality POS system for your frozen yogurt business to make it possible. Make sure you choose an ideal frozen yogurt POS system with a variety of in-built functionalities for smooth business operations and a convenient user experience.
To know more about OVVI's POS system for yogurt shops, reach out to us, and we will guide you to make the most out of it as per your customized business requirements.
Remember, starting a frozen yogurt shop is an exciting venture. With the right knowledge, seamless operations, and tools, you can set yourself up for success.