"Quick summary" While starting a restaurant, owners consider the cost of raw materials, perishable goods, kitchen equipment, furniture, interior setup, theme-based design & decor, and labor costs as major expenses.
The question here is can a restaurant or any other retail outlet survive with technology? The obvious answer is NO. Make technology your best friend if you wish to stay longer in your business and excel. A POS system in a restaurant is not just a machine but a complete technology and an asset that will systematize your business and drive it to success.
As a restaurant owner, you must accept that not all POS systems are made for you. Never settle for a POS system only because it is cheap or gives you a few freebies when you purchase it. You must always opt for a POS System used in the Restaurant business.
If all this discussion has aroused your curiosity about the Types of POS Systems used in Restaurants, then this blog is for you. Let's get into the details without further ado.
Different Types of POS Systems for Restaurants
Modern POS systems offer different software features Your vendor can customize them to match your specific business requirements.
From the different types of POS systems available, restaurants and other food-related establishments use one of the following:
Traditional Form of POS System
When we talk about a Traditional POS system, we generally refer to a register-based POS system. While this POS system is popular amongst older or well-established restaurants, managing the system poses a major challenge.
Restaurants must hire dedicated employees to manage and operate this POS system which will hike your expenses as you can't rely on the rest of the workforce to handle this POS.
Those restaurants that offer tableside service and have adequate wait staff to take care of the guests generally consider buying a traditional register-base POS system.
Although such POS systems don't require complicated POS software, they can be slower, inaccurate, and less efficient than modern restaurant POS in payment processing.
The main reason tableside service restaurants depend mostly on POS systems like the cash register is that they are typically the least expensive option.
POS System with Touch Screen
To combat the flaws of the older Traditional POS system, OEMs came up with an advanced POS system called the Touchscreen POS System. This system offers a modern POS terminal that is faster, more accurate, and can handle complex payment processing.
Besides these features, touchscreen POS systems can take care of
Inventory Management
Customer Order automatically
Online Ordering
POS System with a dedicated server
As the name suggests, a POS system bearing a dedicated server is the most expensive and requires the highest level of maintenance because of its complex architecture. If you ever plan to use this POS system, ensure that your vendor provides adequate technical support and has warranty packages to support the hardware.
Nonetheless, this POS system offers the best features and the deepest level of customization.
You will see dedicated server POS systems in restaurants that require detailed customization and offer larger menu options with various add-ons. Menu management is only part of what it does. It also manages your inventory, tracks employee performance, manages the online ordering, and schedules deliveries and takeaways. All in all a power-packed proposition for those who understand its value.
When you have spent a lot to own such a system, the question is, "Can I upgrade the system, add multiple terminals, or incorporate additional/new features into the software?" The answer is YES.
When you wish your restaurant could offer customers a unique and memorable experience, it is necessary to have a POS system that adds a WOW element to everything within your restaurant. That is what exactly this POS system does for your guests.
Cloud-Supported POS System
With a Cloud-supported POS System, you are a step closer to the latest technological advancements, which is amazing, but this system, too, comes with a few pros and cons.
Such a POS system is nowhere close to a POS System with a dedicated server, as you can't expect it to offer all the features and customizations. This is a benefit as such systems are economical and don't bleed your finances. They are easy to configure and need less technical expertise to set up.
Besides, you must not worry about your data as the Cloud Supported POS System Keeps your Multiple Outlets In Sync. This specialty is handy when you have multiple outlets to manage with one single repository for all your data needs. You can securely back up and store your data in the cloud and access it globally.
Your cloud-supported POS system comes with some brilliant features like
Data reporting in real-time,
Inventory management,
Managing customer relationships,
Table management system.
A cloud-supported POS system is a marvelous piece of engineering, yet it has a major drawback. Before you opt for this system, you must confirm that you have smooth and reliable internet connectivity at your outlets.
When your internet connection goes down, this system won't work. You may have to talk to other retail outlets in your area to understand if the service provider offers a stable internet connection. To be prepared for the worst scenario, you must invest in a backup/secondary internet connection with a facility to switch when your primary connection goes down. With all being said, this is an additional expense for you.
Mobile POS System for Restaurants
While considering different restaurant business models, how can we forget those owners looking for a flexible and portable solution? POS System for Mobile Restaurants is a solution designed for such restaurateurs.
Currently, such POS systems are earning great popularity irrespective of the size of the restaurants. Still, it is essential to understand that these products come with limited features and facilities, contrary to POS systems with dedicated servers.
If you add the elements of portability, flexibility, and convenience to the Cloud Supported POS System, it becomes its mobile version.
With a mobile point-of-sale system, you receive numerous advantages:
The ability to accept orders and process payments throughout the restaurant.
Processing orders and payments with improved accuracy.
Helps deliver quality customer service.
The superior speed with a reduction in waiting times.
Using a mobile point-of-sale system is advantageous for restaurants offering table-side service, quick service restaurants, and quick delivery or takeaway services.
How to choose a POS system?
Choosing the right POS system shouldn't be a problem if you understand your business needs well. Compare the facilities you need vis-à-vis the features that the POS system offers. If you find an 85% match between the two, that POS system is for you.
If you are concerned about How To Choose The Best Pos System For Your Restaurant, you must ask the following questions.
What is the type and size of your restaurant?
Is the new POS system compatible with your existing one?
Which are the most important features that your business needs?
How much is your budget, and what additional resources do you have to arrange for funds?
Let's understand these parameters in detail.
1. What is the type and size of your restaurant?
If your restaurant falls under the small and medium category, cloud-based or mobile point-of-sale systems will serve the purpose.
For a larger restaurant, you must consider a POS System with a dedicated server or a POS System with Touch Screen that has robust architecture and supports in-depth customization.
2. Is the new POS system compatible with your existing one?
Compatibility with your existing POS hardware and infrastructure is critical when switching to a new POS system. It is also crucial to determine if the new system is simple and easy so your employees can enjoy using it to the fullest.
3. Which are the most important features that your business needs?
If you come across a POS system whose functionalities don't match your business needs, that system is not for you, however economical, attractive, or modernized it is. You must identify the features and software functionalities needed to run the POS system successfully.
Identify the POS features you need to run your restaurant business effectively and efficiently before choosing the POS system.
4. How much is your budget, and what additional resources do you have to arrange for funds?
Finally, don't overlook your budget. POS systems come in various price ranges. Some POS systems can be quite expensive. So it is imperative to compare prices and find one that balances features and affordability.
To know about the Restaurant POS Systems Cost In The USA, you must consider the cost of Hardware and software.
When you consider the hardware of your POS System, you are talking about,
Credit card readers,
Cash Drawers,
Stands and Workstations,
WiFi Routers and Extenders,
Order and Receipt Printers.
A handheld Tablet POS will start around $600, while a complete POS hardware for an authentic dine-in restaurant can begin at $2600. More sophistication comes at a higher price.
When you consider the software of your POS System, you are talking about
CRM,
Inventory Management,
Sales Reports,
Marketing Features,
Employee Management.
A POS software offering the basic features may begin at $69 per month, while its advanced version may come close to $150 per month per terminal.
In addition, you can request a POS system demo from the preferred vendor before you decide on the right POS for your business.
A top-notch restaurant POS system cost can be quite expensive. Ultimately, you'll have to choose a POS system that suits your budget and needs.
Features to consider in different types of POS systems
1. Billing and order processing
Billing and order processing are basic functionalities that your point-of-sale must have. Your POS must be capable of generating bills as per orders and also processing payments through different modes.
It can generate order invoices, reprint, and email to end customers, adding the discount, customer details, additional remarks, and salesperson's name to an order.
2. Sales monitoring and reporting
As a restaurant owner, you must have all the details on the sales happening at your restaurant. The point-of-sale system must be capable of generating a comprehensive report. Your POS system should give you a clear picture of the incoming materials and outgoing stock on an hourly, daily, weekly, monthly, and annual basis.
Select a POS with an advanced reporting module that can track and monitor sales trends, forecast product demand based on sales trends, identify unnecessary product overspending, and provide information about stock management.
3. Inventory management and stock adjustments
A point-of-sale system's inventory management module must always provide complete visibility and accountability at the store level. You must be aware of the prevailing stock items at any given time. This module can offer you a list of slow-moving items or dead stock.
The POS software should be able to make stock adjustments, like an increase or decrease in the inventory items, and also record the reason for such adjustments.
4. Customer relationship and experience
Retaining your customers will be easy if your POS system has this feature. Your POS can save your customers' contact details and food-taste preferences so that you can offer them personalized food-taste options and service the next time they arrive. When you make your customers feel special and valued, they will never forget this experience. Such customers can be your brand ambassador.
5. Employee management
An employee management module in your point-of-sale system can help manage employees' working hours and sales performance. You can track employee productivity by linking it with each transaction. This will help you to identify the performers and help those who are weak.
6. Loyalty programs and gift cards
If you wish your customers to return to your restaurant, offer them gifts and special surprises. For recurring guests, a loyalty membership program works as a magnet. Let them accumulate points for every visit and redeem them at will. You can save their contact details, Birthdays, and marriage anniversaries using a feedback form.
Always remember to wish them on their special dates and add double loyalty points to their account on such dates. If they visit your restaurant during the birthday month, offer them surprise gifts.
You can give your customers the option to buy Gift Cards or discount coupons that they can use with their family or gift them to a friend or colleague.
Your POS system must have the loyalty membership and gift card module and should be able to manage it. As your business grows, the database will increase, too; hence, select a POS system that can handle the volume.
Benefits of using a POS system in a restaurant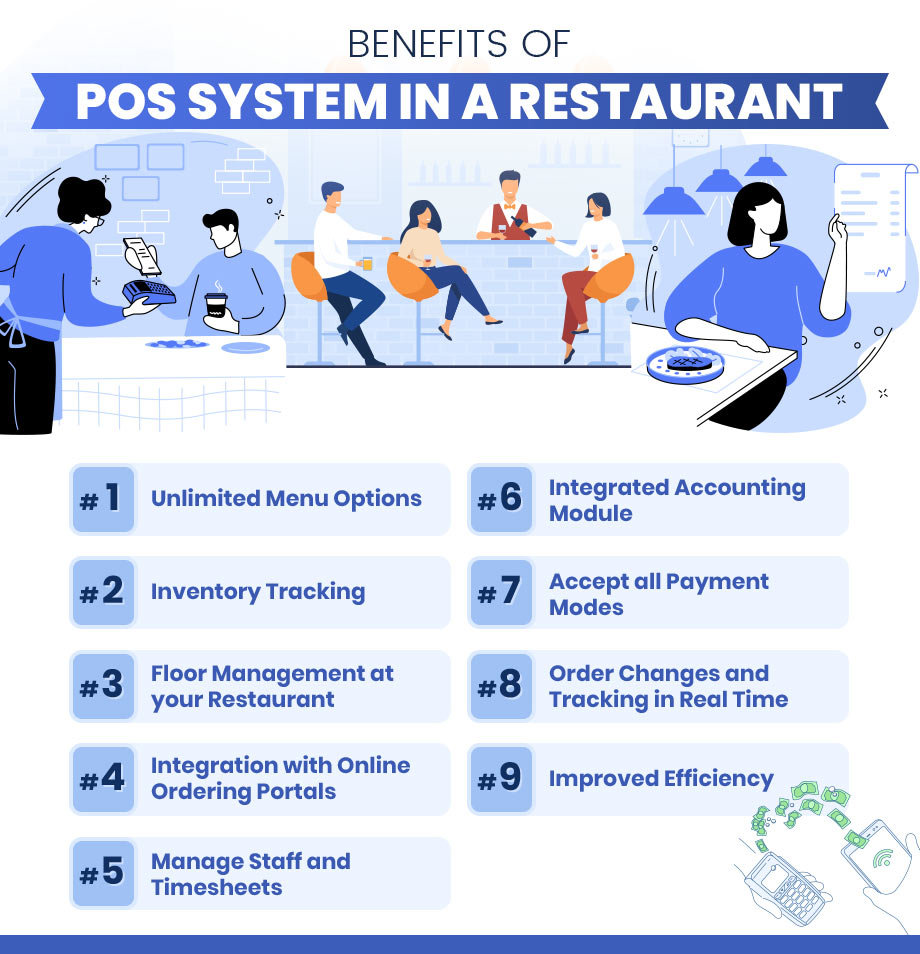 Having a POS system as part of your business pays you in the long run. It has substantial benefits that you must consider.
If your restaurant offers a variety of food items to suit your customer's palate, you will have an exhaustive menu. What would you do if you had to add new food items, amend the existing ones, or remove a couple? Not to worry. The modern POS system allows the creation of unlimited menu options and variations. You may also include seasonal food items or foods for a special festival.
2. Inventory Tracking
This benefit is handy when you wish to know the quantities at the odd hour. Your POS keeps track of all your food items and condiments. It also informs you about the non-moving or slow-moving inventory so that you can avoid reordering them.
This advanced tracking feature lets you know the minimum stock quantity to help you purchase them. The POS system generates detailed reports to help you keep track of your inventory. You can also place orders to buy new stock directly from your POS system, saving time and effort.
3. Floor Management at your Restaurant
Suppose your restaurant offers dine-in or table-side servicing. During peak hours, your waitstaff would be completely occupied. How would you manage your online bookings at that time? Your POS has the answer.
Your POS system creates a map of your restaurant space with all relevant orientations. It also has details of the tables that are occupied and that aren't. With its business intelligence, your POS system can accept online bookings and manage your floor most practically.
4. Integration with Online Ordering Portals
If your fast food restaurant supports online food orders, takeaways, and deliveries through a delivery partner network, it is mandatory to integrate such external ordering portals with your POS system. Your POS system can accept such online orders, process the payments, push them to the kitchen for preparation, and finally manage the deliveries in a systematic and streamlined manner.
5. Manage Staff and Timesheets
Managing your staff timesheet manually can be a pain in the neck, but not anymore. These days, most POS systems offer you the employee management module where you can manage their clock-in, clock-out and actual worked hours right from your POS system. Your POS also helps you know the efficiency of each staff member.
6. Integrated Accounting Module
Weekdays or weekends make no difference if your restaurant's brand and quality are well-established. You would generally see a regular flow of customers almost every day. How about managing your accounts manually? Practically impossible will be your answer. POS these days can integrate with accounting softwares like Xero and Quickbooks to ease your accounting burden.
7. Accept all Payment Modes
Why limit your business to cash, check, and credit-debit card payment modes? While consumers are shifting towards contactless EMV payments like Apple Pay, Google Pay, and other contactless options, you may require to upgrade your existing restaurant POS system or buy a new one.
This will keep your customers happy by allowing them to pay using their preferred mode.
8. Order Changes and Tracking in Real Time
If your waitstaff still takes orders manually or you are using a traditional POS system, it becomes next to impossible to make any changes to the orders placed. You cannot track the progress of the food being prepared with older technologies.
Advanced POS systems can push the orders to the Kitchen Display Systems, communicate with the Chef, suggest changes to the active and queued orders, and track the food's progress with an estimated time. Isn't that amazing as your guests can know the time when the food will be served? Being precise in such instances will enhance your customer's trust in you.
9. Improved Efficiency
All the above benefits are the best Tips for Running Restaurant Business. You will be convinced to buy a need-based POS system for your restaurant. But how do you measure the efficiency of each task performed at your premises? When each task is measured against time, your picture becomes crystal clear. You don't need anything else to know how efficiently your business operations are progressing.
You would know the avenues that perform well and those that still need improvement. You will have thorough control over your staff's activities, floor management, kitchen operations, and on-time delivery of ordered food items. Your POS system can be instrumental in positioning your restaurant business for growth.
Wrap-up
By now, you would have understood the Types of POS System Used In Restaurants, what to consider while choosing one, and the features present in different types of POS systems.
We have also highlighted the benefits of having a need-based POS system at your restaurant. If you watch the benefits closely, you will understand that buying a POS is not an expense but an asset and a friend for your business. It will smoothen your business operations and put the processes right, ultimately helping you focus on growing your business which is getting distracted due to petty stuff.
Best business practices suggest using the product in sync with its purpose. Choosing between a cheaper POS system and a cloud-based one depends on an individual's preference. Still, this blog's main purpose is to emphasize the importance of having the right POS system for your restaurant.