"Quick summary" For most business organizations striking the right balance between demand and supply is key to their success. Unable to establish a free flow of goods through the supply chain could be a nightmare for the organization. It can result in the wastage of goods, high business operating costs, customer dissatisfaction, loss in revenue, etc. To avoid these risks, organizations should be well-versed in their inventory management process.
For large businesses, inventory management is undoubtedly crucial. A streamlined inventory management process ensures there is no wastage of goods and customer demands are fulfilled on time. However, the rapid evolution of business models has made the inventory management process a bit complex, and the traditional methods are becoming ineffective.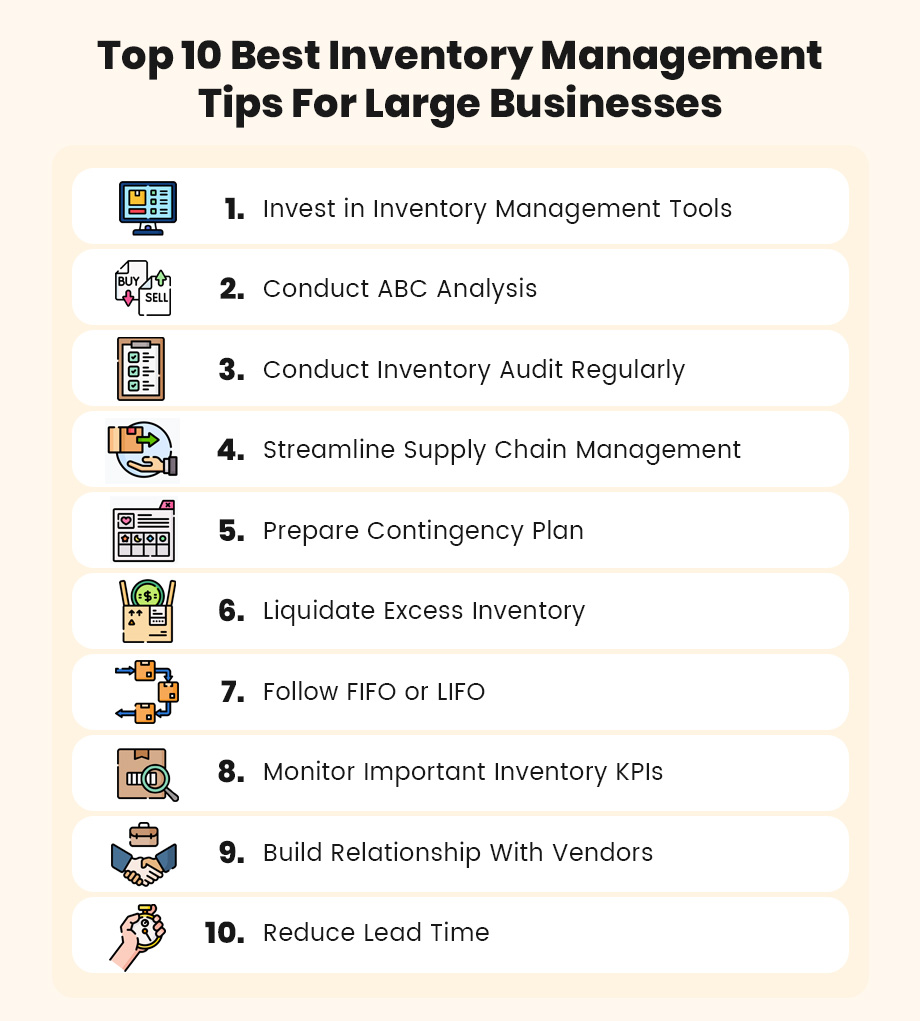 Most organizations anticipating simplifying the inventory management process see great potential in technology. By implementing the latest technologies and following a few inventory management tips, organizations, specifically, the large organizations can overcome all the challenges associated with the inventory process and make the business profitable.
Top 10 Best Inventory Management Tips for Large Businesses
1. Invest in Inventory Management Tools
As business organizations expand in size, the complexity in the inventory management process also increases. It is a tough job when the business has to manually manage a large inventory stock, specifically when businesses operate from multiple locations or spread across geographic locations.
By investing in cloud-based inventory management tools, companies can easily mitigate the challenges. Cloud-based inventory management tools are interlaced with advanced features such as real-time inventory tracking, low-stock alerts, unlimited SKUs, inventory reporting, batch tracking, etc.
These features make the inventory process more accountable and reduce human errors. The software also supports other tools or modules like e-commerce modules, accounting modules, order management modules, warehouse management modules, etc., which connect every crucial area or process of inventory management.
Besides that, large enterprises have to scale up inventory as per market needs; with a cloud-based inventory management solution, it is easy to scale up the inventory management process.
2. Conduct ABC Analysis
Categorize inventory goods with ABC analysis. ABC analysis is essential because not all the business products have the same selling rates, and not stocking inventory as per the consumption rate could be a nightmare for business owners.
Categorizing products based on their consumption rate and product value makes it easy to stock the items. ABC analysis is a technique to classify inventory into three categories based on the Pareto principle; A is the most important item with minimal products but contributes heavily to the revenue, while B sells more but generates less revenue than A and costs more to hold than A.
In contrast, C consists of a large volume of inventory but has the least value in terms of generating revenue. ABC analysis helps inventory managers to forecast demand accurately and gives a fair idea of which items to manage more efficiently. ABC analysis is recommended to avoid financial loss due to mismanagement of inventories.
3. Conduct Inventory Audit Regularly
Auditing is a process where auditors check the actual inventory levels against financial records. The auditing process is either conducted by the company itself or an outside auditor.
Usually, the company calls external auditors for auditing. Various auditing techniques used by auditors for inventories are cutoff analysis, physical inventory count, ABC analysis, overhead analysis, reconciling items, etc.
An inventory audit helps to identify the errors in inventory management and calculate accurate profits of the company. It even helps in reducing inventory holding costs.
Factors that increase holding costs are warehouse rentals, depreciation on unused inventory, labor to manage inventory, insurance, etc. By regularly auditing inventory, the inventory manager can identify unused inventory and avoid financial loss to the company.
4. Streamline Supply Chain Management
Inventory management is a vital link or part of supply chain management. Any error in inventory management can impact the supply chain; likewise, any error in supply chain components can impact inventory management.
For smooth inventory management, it is necessary that the entire supply chain is streamlined and organized. Whether it is procurement, warehousing, or last-mile delivery, every component of the supply chain should be in sync and well-consolidated.
5. Prepare Contingency Plan
A contingency plan helps business organizations absorb the impact of unexpected situations and improve inventory control. As part of a contingency plan, business organizations should estimate and maintain safety or buffer stock.
Usually, inventory managers keep 10-20% of cycle stock as a buffer; however, there could be variability based on product demand. Likewise, business owners should keep a temporary warehouse space to accommodate access to buffer stock inventory during odd circumstances.
Business owners should also ensure that a contingency plan is communicated across the department.
6. Liquidate Excess Inventory
Large enterprises manage massive inventories and continuously order new products to meet market demand. But besides all their efforts, some inventories sit idle in the warehouse and add costs to the company. It is necessary for organizations to get rid of these inventories.
By liquidating slow-moving or excess inventory, the company can free up its cash. There are various ways a business can liquidate excess inventory, for instance, by lowering the product prices, bundling them with the fast-moving product, offering a discount on the product, offering them as freebies or incentives, etc.
7. Follow FIFO or LIFO
FIFO (First In, First Out) and LIFO (Last In, First Out) are the methods of inventory management and help business owners to minimize financial loss. The FIFO method is used for perishable goods or products with expiry dates. It is also crucial from the point of accounting and taxation.
LIFO ( Last In, First Out) is used for non-perishable goods, and it is used when the costs of acquiring inventory or producing a product have been increasing. The FIFO method is accepted by GAAP and IFRS, while GAAP only accepts the LIFO method.
8. Monitor Important Inventory KPIs
Inventory KPIs tell how efficient the inventory management system and its performance are. If there is any deviation in inventory KPI, then it indicates flaws in the inventory management system.
Some critical KPIs inventory managers should consider are inventory carrying costs, lead time, inventory turnover rate, cycle time, inventory write-off, fill rate, etc. In the past, it was impossible to track all these metrics, but today with the help of advanced inventory management software, the business can seamlessly track them.
9. Build Relationship With Vendors
Vendor relationship is an essential aspect of inventory management. Timely deliveries of raw materials by vendors ensure that final goods are released in the market on time. To build a long-term partnership with vendors, business owners should find vendors that could relate to business goals.
For instance, the MOQ (Minimum Order Quantity) should not be very high compared to sales quantities. In addition to that, business owners need to see that the right contract terms are followed and vendors adhere to them.
Product deliverables, pricing strategy, and regulatory compliance are a few other areas where business owners and vendors should be on the same page. Business owners should build trust and loyalty by maintaining a high level of transparency.
10. Reduce Lead Time
Lead time is the time taken from when a purchase order is placed to when the order is received in the warehouse. Lead time has a direct impact on the total inventory levels.
Longer lead time means the organization needs to keep the excess inventory in stock to meet customer demands. Longer lead time results in wastage of resources and high inventory holding costs.
As a good inventory management practice, a business organization must reduce lead time. There are various ways business owners can reduce the lead time, such as changing shipping methods, automating the purchase order, ordering the product from local suppliers, etc.
Schedule a Demo for Implement a Robust Inventory Management Tips
Conclusion
A robust inventory management process helps organizations to meet customers' demands on time and maximize the company's working capital. But large enterprises often find it challenging to manage and track inventories due to complex business operations.
However, by investing in smart inventory management solutions and following simple tips on inventory management, companies can improve business profitability.