"Quick summary" Opening a salon necessitates a significant amount of effort and planning. Even seasoned pros with decades of experience in the salon industry will tell you that beginning a new hair business necessitates research and a sound salon business plan.
If you're thinking of launching your salon, you've undoubtedly already done some study on the industry and its prospects. However, there's one important question you'll need to know the answer to: How much does it cost to open a salon?
Depending on the kind of salon you want to create, the expenses you anticipate spending, and the location where you want to open your salon, costs can vary significantly.
If this is something you're considering as well, the guide below includes estimates for all the typical costs you'll need to pay. You may start on the correct foot and arrange your venture sensibly with the aid of these assessments.
So, dig deep and take the initial step toward launching your salon business.
Things to Consider Before Starting a Salon Business
Location
Consider the demographics of your target market while choosing a site for your hair business. Look for areas where your target consumers live or work, such as residential neighborhoods or commercial areas with a large concentration of office buildings. It will raise the likelihood of drawing customers who are more inclined to pick your salon for their hair care requirements and who are conveniently placed nearby.
Being visible is crucial in the hair salon sector. Prominent salons have the power to draw in customers by drawing their attention from the street and encouraging them inside. For maximum convenience, pick a location with plenty of parking or quick access to public transportation.
It may be less expensive to buy a place than to rent one, but you must be able to afford to obtain a mortgage for the property. A $100k–$700k property investment will also require a down payment of at least $15k–$70,000k in cash, leaving you with a mortgage of $1–$2,000 every month.
It can cost $25 per square foot to rent a salon that is in a mall or on a busy street; yet, if the salon is farther away, the cost may just be $10 per square foot.
Utility Bills
Utility costs are a vital component when starting a salon business. These expenses include several essential services that ensure the smooth operation of your salon. Properly managing these utility costs is essential for the financial health of your salon business. Accurate tracking and budgeting of utility costs should be integrated into your overall financial plan.
Here's how much utility expense costs for the salon business:
Electricity: The electricity cost covers expenses for the salon's lighting, heating, cooling, and other electrical equipment, such as hair dryers and other styling tools. Monthly electricity bills can fluctuate, typically ranging from $100 to $300.
Water: Water expenses include the usage of water for activities like hair washing and cleaning. These costs can range from $50 to $150 per month, contingent on your salon's size and service volume.
Heating and Cooling: Maintaining a comfortable salon temperature is imperative for client and staff comfort but can be a substantial cost. Monthly heating and cooling bills, ranging from $50 to $200 or more, depending on your location's climate and your salon's size. Energy-efficient HVAC systems and proper insulation can help efficiently manage these expenses.
Furniture
Another important factor to consider when starting your salon business is furniture and equipment. Ensure that the furniture you choose for your salon business is of the highest caliber, long-lasting, and visually appealing. It ought to fit nicely with the style of your salon. It typically costs between $1,000 and $3,000.
The expenses of equipment can pile up, ranging from furniture for waiting rooms to styling chairs, shampoo bowls, equipment for manicures and pedicures, and more. Although you might be tempted to save money here, it can ultimately be wise to invest in high-quality furnishings and equipment.
Investigate your options before choosing an equipment supplier. Google reviews can reveal a lot about the performance and track record of a business.
Equipment
Among all the things to consider when starting your salon business, you also need to look after the equipment costs. The equipment you need to purchase is based on the type of salon business you are using and its cost to open a salon also varies significantly.
Common equipment requirements include styling chairs, shampoo stations, specialized tools for specific services like haircuts and manicures, as well as furniture for the waiting and reception areas.
Safety and sanitation equipment, electronic systems for scheduling and payments, and decorative elements like mirrors and lighting fixtures all play crucial roles in the day-to-day operations and overall ambiance of the salon.
You need to spend around $5000 to $25000 to get started with your salon business. Keep in mind that the estimated costs for this equipment can vary based on factors like the salon's type, location, and size. Careful budgeting ensures that you acquire the necessary equipment to create a thriving salon that both you and your clients can enjoy.
Salaries
One of the hardest things about managing a salon is finding and keeping talented employees. Referral hiring is highly encouraged, with current workers recommending their friends for employment.
If you're a first-time salon owner, you can hire through agencies, display "We're hiring" signs, or get in touch with any nearby academy that has personnel. You can find talent by searching via the numerous active Facebook groups.
A salon needs the following three sorts of employees:
Housekeeping personnel: This group includes the attendants, cleaners, and other staff members.
Service personnel- Your service personnel include hairstylists, beauticians, makeup artists, therapists, and so on.
Employees in management: Your store manager, floor supervisor, salon manager, and so forth.
Before you start a salon business, remember to train your team not only on their profession but also on how to serve their clients to provide excellent customer service in accordance with your salon's standards.
The salaries, recruitment, and training costs to start your salon business vary on your personalized business requirements.
Salon Software
Even though it may be the most crucial component, salon technology is sometimes overlooked while operating and maintaining a salon. Getting your hands on a top-notch point-of-sale system and other necessary tools for seamless management is essential to operating your salon efficiently. The cost to get the best-in-class salon POS system and its maintenance costs around $500/month.
The powerful salon POS system has developed several integrated features with the help of cutting-edge current technology, greatly streamlining salon operations. There are specialized salon technology options available for many kinds of salons.
Establishing and maintaining a successful salon from the ground up is an enormous undertaking. However, you can accomplish the task easily if you have the right tools and strategies! So, do your homework and invest in a high-quality POS system to get your salon up and running.
Insurance
Complete salon insurance for a spa, hair salon, beauty salon, or barbershop comes out to roughly $2,900 per year (or $240 per month). The precise cost of salon insurance can, however, differ significantly.
The cost of insurance is based on your geographical jurisdiction, the nature of your services, the size of your workforce, and your company's turnover.
Insurance premiums typically range from $50 to $250 per month, offering protection for your clientele, employees, and yourself within the salon domain. The predominant category, known as "general liability" insurance, safeguards against potential asset damage, legal actions brought against you, and at times, even damage to your company's reputation.
It is advisable to consult an insurance specialist to ensure comprehensive coverage tailored to your specific business requirements. They will proffer tailored solutions based on the understanding of your unique business needs.
Marketing Plan
Any business, including salons of all kinds, needs to utilize marketing. Think about contracting with or outsourcing work to a seasoned marketer who can develop a successful marketing plan for your hair salon.
In addition to harnessing the potential of social media, a meticulously devised marketing strategy should encompass pay-per-click (PPC) advertising initiatives, localized promotional campaigns, comprehensive search engine optimization (SEO) strategies, targeted card and flyer distribution, methodical event planning, strategic corporate partnerships, and other advanced marketing methodologies.
Furthermore, a robust marketing strategy should encompass PPC campaigns, geo-targeted advertising, advanced SEO techniques, tangible print media such as cards and flyers, meticulous event coordination, strategic corporate alliances, and other multifaceted marketing methodologies.
The financial allocation for marketing and website development in your salon business can display significant variability, ranging from an initial investment of $500 to $10,000. This range is contingent upon the depth of your marketing endeavors and the level of intricacy in your marketing approach.
Ideally, salon owners should allocate 5% of their earnings to marketing their establishment. There should be a great balance between offline and online marketing. Digital marketing, in addition to word-of-mouth or marketing via referrals, can work wonders for your salon.
Repair and Maintenance
Considering the repair and maintenance costs is a pivotal aspect when launching a salon business. Ensuring that your salon space is in top-notch condition is crucial to creating an inviting and functional environment for clients. To make it possible, you need to spare around $100 to 1000 dollars every month for the same. You can maintain a contingency fund to account for the repair and maintenance of your salon business.
This includes investments in renovations, such as painting, flooring, plumbing, and electrical work. Additionally, ongoing maintenance and occasional repairs for salon equipment, furniture, and fixtures should be factored into your budget.
Don't overlook the costs of utilities, regular cleaning, and compliance with safety and health regulations. It's vital to allocate resources for regular updates, branding, and the occasional unforeseen expenses. By keeping your salon in excellent condition, you not only maintain its appeal but also enhance its longevity and success in the competitive beauty industry.
Salon Licenses & Permits
Starting a hair salon business necessitates the acquisition of several licenses and permits from local, state, and federal officials.
Federal requirements, licenses, and permits involved with launching your business include:
Cosmetology license
Occupancy license
Salon business operations license
Other health licenses and permits from the Occupational Safety and Health Administration (OSHA).
In addition to securing the mandatory licenses and permissions for your business, the realm of intellectual property includes trademarks, copyrights, patents, and other legal formalities. The process of acquiring these licenses can be complex, with a salon incurring an approximate expenditure of $12,000, with the cosmetology license being the most expensive.
It is crucial to know that licensing regulations and the procedures for obtaining them exhibit significant differences based upon the governing jurisdiction of the state, city, and county. Thus, it is advisable to navigate the official websites of your state, city, and county governments to get comprehensive insights and expert guidance.
This phase carries substantial legal implications, and any lapses in compliance may result in severe consequences. If the complexity of this process appears daunting or if you are uncertain where to start, hiring a professional expert to manage the intricate legal requirements is quite crucial.
What Types of Salon Do You Want to Open?
There are various types of salons you can open, catering to different beauty and wellness needs. Each type of salon comes with its own unique costs and considerations. Here are a few different salons you can consider, along with the estimated cost to open a salon ranges: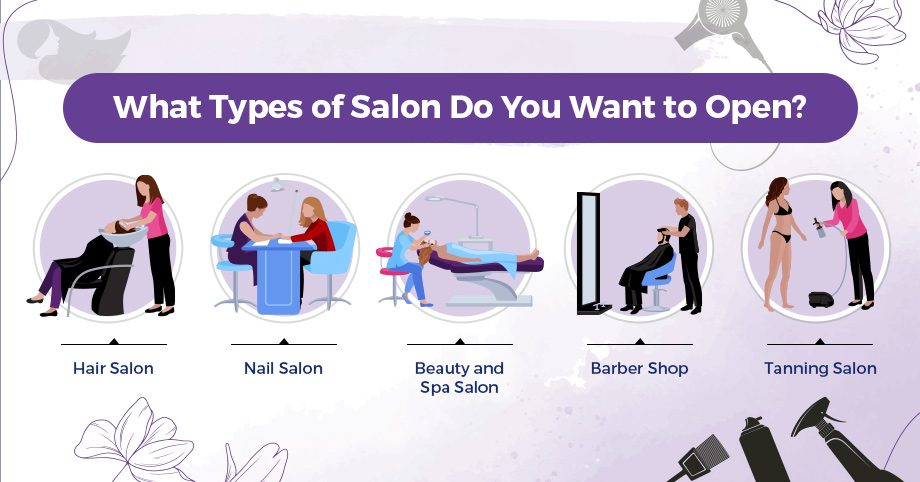 Hair Salon: Hair salons specialize in a diverse array of hair services, including precision haircuts, meticulous styling, expert coloring, and rejuvenating hair treatments for both men and women. The initial financial cost to establish a hair salon typically ranges from $30,000 to $100,000 or more, based on factors such as rental or leasing expenses, licensing prerequisites, and renovation costs.
Nail Salon: Nail salons are dedicated to the art of nail care, offering an extensive array of services including manicures, pedicures, and premium offerings like acrylic or gel nail enhancements. On average, the capital investment required ranges around $20,000 to $50,000 or possibly more, inclusive of expenses for furnishing, state-of-the-art nail equipment, and initial inventory.
Beauty and Spa Salon: Beauty and spa salons offer a comprehensive spectrum of services, ranging from rejuvenating facials and massages to waxing, advanced skincare treatments, and ultimate relaxation experiences. The initial financial commitment to embark on a beauty and spa salon journey ranges from $50,000 to $200,000 or beyond, based upon variables such as spa size, prime location selection, the spectrum of services offered, staffing considerations, and other considerations.
Barber Shop: Barber shops specialize in offering impeccable grooming services for men, including haircuts, shaves, and beard trims as well. The setup costs for a barber shop typically range from $30,000 to $75,000 or more, based on considerations such as interior design, comfortable barber chairs, and high-quality grooming equipment.
Tanning Salon: Tanning salons cater to clients seeking to achieve a sun-kissed tan, often through the utilization of UV tanning beds or precision spray tan booths. The initial costs for setting up a tanning salon can range from $30,000 to $75,000 or more, which includes the costs of tanning beds, ventilation systems, and safety measures.
Note: These are just estimates and the actual costs vary on different factors.
Is It Hard to Open a Salon
Starting a salon may seem challenging and complex, but it's doable. Besides regular expenses like rent, utilities, supplies, and other ongoing business expenses, you'll also need business licenses and insurance. Apart from this, hiring and training staff and effective marketing are important too. If you're going solo to get started with your salon business, you'll wear many hats.
However, with careful financial planning, a well-designed salon layout, and a clear business plan outlining your goals and actions, success is achievable. Balancing these responsibilities is the path to triumph in the salon industry.
A salon business plan will assist you in determining how much money you will require for starting expenses and an estimate for ongoing costs.
It cannot simply be begun with a blank business plan template. There are so many decisions that you need to make.
Which services are you planning to provide?
Which market is your target?
What is the rent going to be?
What is the estimated cost of utilities?
It is imperative that you have the answers to these questions before moving forward with launching your salon. To get the most out of everything and launch a profitable salon, conduct thorough research, write a strong business plan, obtain the necessary permits, secure funding, and proceed. You must not only plan for the beginning but also the smooth running of the business in the future.
Hire the best employees and make sure you have a best-in-class point-of-sale system for efficient operations and sound management. With the correct point-of-sale system, you can track staff, run your salon business more effectively, and offer superior personalized services.
Is Owning a Salon Profitable
Salon businesses are quite profitable and are growing in profitability with each passing year. According to Statista, the hair, skin, and nail salon industry in the United States fell to $42.3 billion in 2020 from over $69 billion in 2019. Nonetheless, the quantity of salons is increasing fast, with a projected worth of $53.6 billion by 2022.
Another survey by the cosmetic industry revealed that one of the most profitable business initiatives in the modern era is the salon and spa industry. In the last five years, the industry has expanded by over 60%.
An average salon turns a profit of $19,100 annually. The average profit margin for salons is 8.2%, which is higher than the 7.7% average for all businesses and is rising significantly every year. Depending on how professionally you manage your salon business, the profit margin might vary from 2% to 17%.
So, if you plan in advance, handle your budget, and market the business appropriately, you can earn a good return on your salon investment.
Additionally, you must always work to increase sales and the profitability of your salon business.
Salon Expenses List: How Much Does It Cost To Open a Salon?
Existing Salon
Opening an existing salon is a practical way to enter the beauty industry with an established customer base and brand recognition. Acquiring an existing salon can offer a head start in the beauty business by leveraging an established clientele and operational framework. Costs will depend on factors such as the salon's reputation, location, and any necessary upgrades or renovations.
Purchase Price: The purchase price of a salon business is based on diverse factors such as the salon's size, location, and reputation.
Legal and Licensing Fees: $1,000 to $12,000 or more.
Renovations and Upgrades: $10,000 to $50,000 or more(It is optional and varies greatly based on your requirements)
Inventory: $5,000 to $15,000 to get or update the inventory
Equipment and Furniture: For salon equipment or furniture needs, you can spend around $10,000 to $50,000.
Marketing and Rebranding: The budget for rebranding, marketing, and advertising ranges from $1,000 to $5,000 or more per month.
Utilities: Ongoing monthly expenses for utilities such as electricity, water, and heating/cooling, usually ranging from $200 to $500.
Employee Wages: The budget for employee salaries and training could range from $500 to $2,000 or more per employee per month.
Maintenance and Repairs: Ongoing maintenance and unexpected repairs cost around $100 to $500 every month.
Insurance: It costs around $1,000 to $2,000 per year.
Contingency Fund: An additional budget for unforeseen expenses or emergencies would be around 5% to 10% of the total expenses.
Note: It's crucial to conduct a thorough process or seek professional guidance when acquiring an existing salon to accurately assess costs and potential risks.
New Salon
If you think you have considerable experience in starting your salon business, you can opt to start your salon business from scratch. Opening a new salon is an exciting venture but comes with various costs that can vary depending on factors such as location, size, and the services you plan to offer. Costs will vary based on location, size, interior design, and equipment choices.
Here are some of the common costs you need to consider to start your salon business:
Initial Setup Costs:
Renovation and Space Setup: $10,000 - $50,000 or more.
Salon Equipment and Furniture: $15,000 - $50,000.
Licensing and Permits: $1,000 - $5,000 or more.
Initial Inventory: $5,000 - $10,000.
Ongoing Monthly Expenses:
Rent: Variable depending on location.
Utilities: $200 - $500.
Employee Salaries: $2,000 - $5,000 per employee per month.
Marketing and Advertising: $500 - $1,000 or more.
Cleaning and Janitorial Services: $100 - $300.
Software and Technology: $50 - $200.
Maintenance and Repairs: Budget for unexpected expenses.
Business and Liability Insurance: $1,000 - $2,000 per year.
Marketing Campaigns and Promotions: $500 to $2000/ month
Contingency Fund: Budget for unforeseen expenses or emergencies, often recommended at 5% to 10% of the total setup cost.
Ovvi: Your Salon Software To Manage Your Business
A salon POS system is more important than ever for your business since it allows you to better streamline and automate day-to-day operations. Getting your hands on the POS system from OVVI will help you do a lot of things, like keep a customer database, manage effectively, save time, and cut down on human error. We know you won't believe us, but all these features are available at a very affordable price.
It is a one-stop shop that enables you to operate your business more effectively, from any location. Thus, all you need is OVVI's Salon POS system to manage payments, schedule client appointments, and oversee the inventory of the salon.
Overall, it greatly increases your company's speed, efficiency, and automation, allowing you and your employees to concentrate on other crucial duties.
Conclusion
While starting a salon is no easy task, it may also be one of the most fulfilling endeavors you will engage in. If you have a passion for all things beauty and want to share your skills with your local community, you can be successful if you follow the appropriate measures to get started.
With the help of this blog, we hope you now have a clear understanding of the crucial considerations to start your salon business and the associated expenses. You can establish a successful salon business with a detailed business plan and a clear understanding of the costs.