"Quick summary" The vape business is currently the most trending and popular business idea. So, are you also looking to open a vape shop?
If your answer is yes, then let's proceed with adding a detailed guide on how to open a vape shop, along with some Frequently Asked Questions (FAQs) to assist new business owners in getting started.
If you're having second thoughts about this business and its profitability, let's take a look at the numbers. By 2025, it is predicted that the worldwide vape market will be worth more than $61 billion.
It is a wonderful business idea, and you'll undoubtedly have a lot of competitors. But, with the right strategies and diligent practices, you can carve out a successful niche in this flourishing market.
Let's dig down to get a 10-step detailed guide to start your vape shop!
1. Research and Planning
The very step to get started with any business is comprehensive research and planning. This end-to-end researching and planning will help you provide the basic overview initially and how you can move forward in the right direction to get the best results.
Let's find out some of the best tips to do the research and planning:
Diverse Information Sources: Explore a variety of sources, including industry reports, market research, online forums, government websites, and academic studies to gather comprehensive data.
Competitor Analysis: When studying competitors, go beyond their products and pricing. To gain a competitive edge, it's crucial to conduct a comprehensive competitor analysis and scrutinize customer experiences to pinpoint gaps and opportunities.
Customer Surveys and Feedback: Actively seeking customer surveys and feedback through methods such as surveys, focus groups, or online discussions will provide invaluable insights and lead to informed business decisions.
Local Insights: Leverage local business associations, chambers of commerce, and community organizations for insights into your specific market area.
Regulatory Expertise: Consult legal experts or regulatory authorities to fully understand and comply with vaping industry regulations in your region.
Online Resources: Utilize online resources such as industry-specific websites, blogs, and social media groups to access real-time information and discussions within the vaping community.
Consumer Reviews: Read customer reviews and feedback on vaping products and shops to understand consumer sentiments and identify potential areas for improvement.
Financial Data Analysis: Use financial data and performance metrics to assess the financial health and profitability of potential suppliers and partners.
Consultation: Seek advice from experienced entrepreneurs, mentors, or business consultants who can provide valuable insights and guidance.
2. Drafting a Business Plan
Each business requires a business plan. It will serve as a manual to help your startup get through the launch process while staying focused on your major objectives. Additionally, a business strategy helps potential investors and partners comprehend your organization and its mission.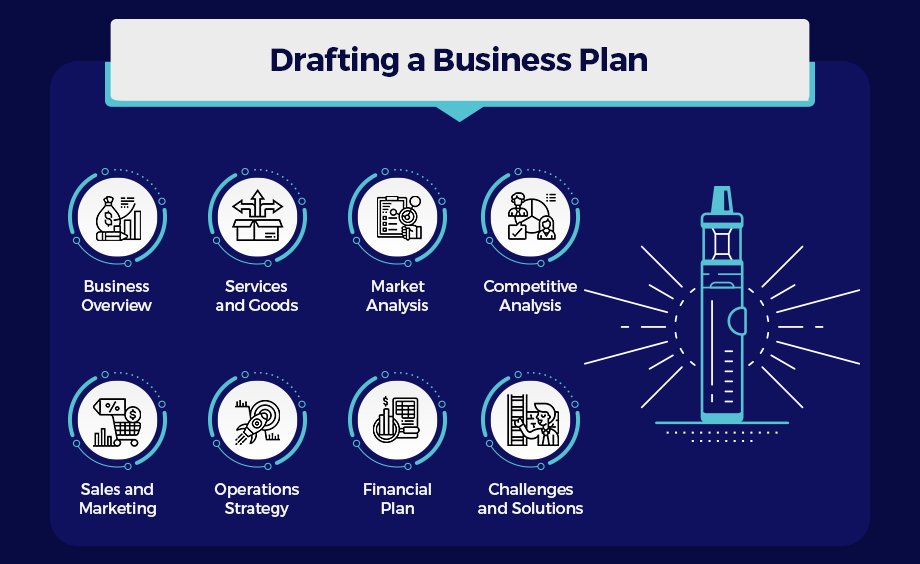 Business Overview: A description of the organization's vision, mission, ownership, and goals. It also includes deciding on the kind of company you want to launch, a name, and a legal structure.
Services and Goods: Give a thorough description of your products and services.
Market Analysis: Conduct a SWOT analysis and evaluate market trends, such as variances in demand and growth potential.
Competitive Analysis: Evaluate your primary competitors' strengths and shortcomings while compiling a list of your services' benefits.
Sales and Marketing: Consider the unique selling propositions (USPs) of your businesses and create sales, marketing, and promotional plans.
Operations Strategy: The operational strategy for your business outlines logistics, office location, essential assets, and equipment.
Financial Plan: Develop a comprehensive three-year financial plan encompassing startup costs, break-even analysis, profit and loss projections, cash flow forecasts, and a balance sheet.
Challenges and Solutions: In your business plan, outline all potential challenges your company might face, accompanied by your strategies for effectively addressing them.
3. Location and Store Set-Up
Choosing the right location for your vape business and its suitable set-up, as per your target customers ' needs, will make or break your business. Market research will be necessary to determine that location and will require some research on your part.
Here are some tips for choosing the right location for your vape store:
Make sure your location complies with local state and municipal regulatory regulations, which differ based on the state and city.
Evaluate local demographics to gauge customer interest.
Analyze foot traffic to ensure it can sustain your business. You want people to be able to locate and identify your business with ease.
Make sure your signage is clear and easy to read.
Assess competition and identify opportunities for differentiation or offering superior value.
After choosing the best location for your vape store, you can concentrate on setting up for your customers. An open, well-lit, and comfortable space is more appealing to walk-in clients. You can design and decorate the space as per the requirements of your target market. The furniture, lights, and walls should match the overall aesthetics and requirements of your target customers and business.
4. Suppliers and Inventory
It is critical to choose a respectable, trustworthy supplier who stocks things that your clients would appreciate. The last thing you want or need is for your supplier to stop supplying the products you sell or to prove unreliable - which will impact your business operations. You must conduct a considerable investigation to discover the right supplier for your vape store.
Don't always choose the cheapest supplies; instead, consider their quality. Nevertheless, it's crucial not to overspend unnecessarily. Thus, prioritize getting high-quality items at the most cost-effective prices.
When ordering goods, ensure that your selection goes beyond the products you favor.
Conduct some market research and ask around.
What exactly do vapers seek?
What customers perceive as missing in vape shops and what they eagerly anticipate in a new store is essential to consider.
Lastly, ensure a well-stocked inventory of vape equipment, including batteries, mods, and, potentially most crucial, a diverse range of vape juice.
5. Legal Compliance
It is essential to ensure legal compliance and pay attention to all federal, state, and local laws and regulations before opening a vape shop.
First, familiarize yourself with the applicable municipal taxes on tobacco and vaping products. Local taxes differ because some localities are still keen on keeping vape shops away from the area. Furthermore, it's worth noting that it is unlawful to establish a vape shop near a school or public park.
Federal regulations provide clearer guidelines that apply uniformly to all tobacco businesses across the United States.
Even if your shop doesn't sell traditional cigarettes, the regulations governing cigarettes still apply to you because vaping goods are still considered tobacco.
Verify everyone under the age of 27 with a photo ID.
To purchase, customers must be over the age of 18.
Vending machines are only permitted in facilities where customers usually are at least 18 years old.
You are not allowed to distribute free samples.
Every product must include health warnings on the label. Advertisements are not permitted to appear on any e-cigarette products.
Noncompliance with these laws will cause hefty fines. Take these rules seriously because the sanctions rise dramatically with each infraction. Check out the FDA's regulatory material for retailers for more thorough information about vape and its sales.
Marketing and promotion of your vape store to spread the word in the market and boost your visibility is quite crucial. There are two ways to do marketing: Online Marketing and Offline Marketing.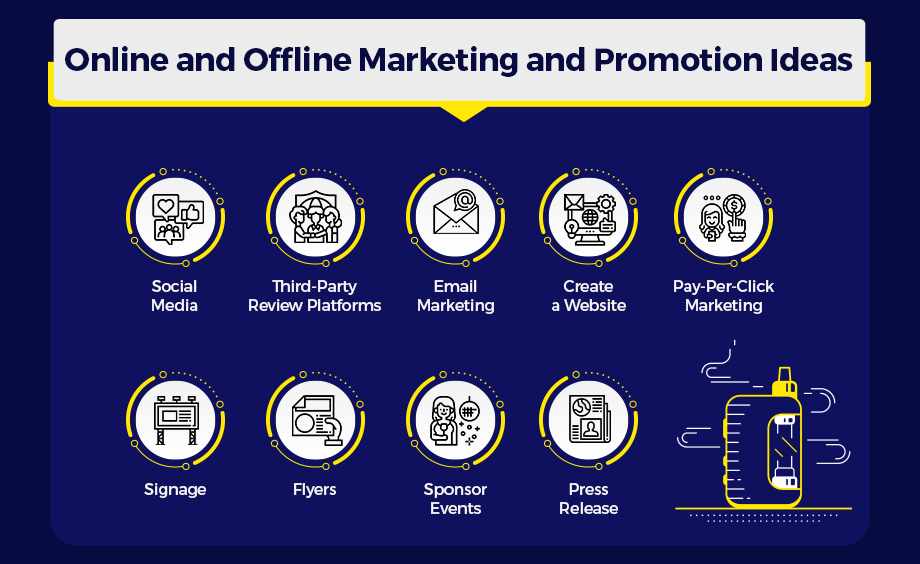 Here are some effective online and offline marketing promotion ideas:
Social Media: Social media is a fantastic tool to promote your products, services, and business. There are so many popular platforms like Facebook, Instagram, X (Twitter), LinkedIn, and even TikTok, favored by teenagers, which are widely employed for marketing your vape business and building your brand.
Third-Party Review Platforms: Getting featured on Yelp and Google My Business can be essential to generating awareness and customers for businesses that depend on other clients to choose your shop.
Email Marketing: To boost exposure and inform clients and prospects about exclusive deals and discounts, etc., you can leverage the power of email marketing.
Create a Website: Create a website and use it to increase your visibility. To increase visibility, you might create a blog and invest in SEO.
Pay-Per-Click Marketing: Utilize the effectiveness of pay-per-click advertising on search engines and social media to broaden your reach within your target market.
Signage: Showcase attention-grabbing signage both within your store and on your website.
Flyers: Distribute fliers in your community.
Sponsor Events: You can organize and sponsor events that are relevant to your target market, and you can even partner with similar businesses to tap into their customers.
Press Release: Make and spread press releases regarding new items, sales, and so on.
7. Staffing and Training
You are opening a vape shop, but you can't be able to do it alone. For that, you need to hire the best ones who can help you manage your vape shop. But be sure to check your local guidelines to find the best workers without overspending. However, initially, you can start all alone and then hire as you grow.
Here are a few general inquiries you'll want to address regarding the recruiting and training of your staff:
How will staff members welcome and engage customers inside the store?
How can you employ and educate your personnel efficiently?
Establish a training regimen and follow it religiously.
Make sure to record which employees attended which sessions.
Encourage both customers and employees to express their thoughts and ask inquiries. Give the conversation and questions plenty of time.
Which platforms will you use to find and employ the top candidates?
How does your staff handle conflicts and angry customers?
Quick Tip: You can get free materials or train your staff by yourself to open a vape shop or fewer resources.
Once you feel comfortable answering these inquiries, be sure to document your procedures and educate your staff as necessary. The greatest thing you can do to stop this is to practice roleplay as needed and constantly review customer service policies with your team. It will allow you to deliver better service to your customers and secure your company's success.
8. Financial Management
Finances are among the crucial components for any business, and vape businesses are not an exception at all. So, creating a comprehensive financial model and proper financial management is indeed crucial for launching a successful vape shop. With a well-structured financial model, you can enhance your understanding of your business's financial health and make informed decisions.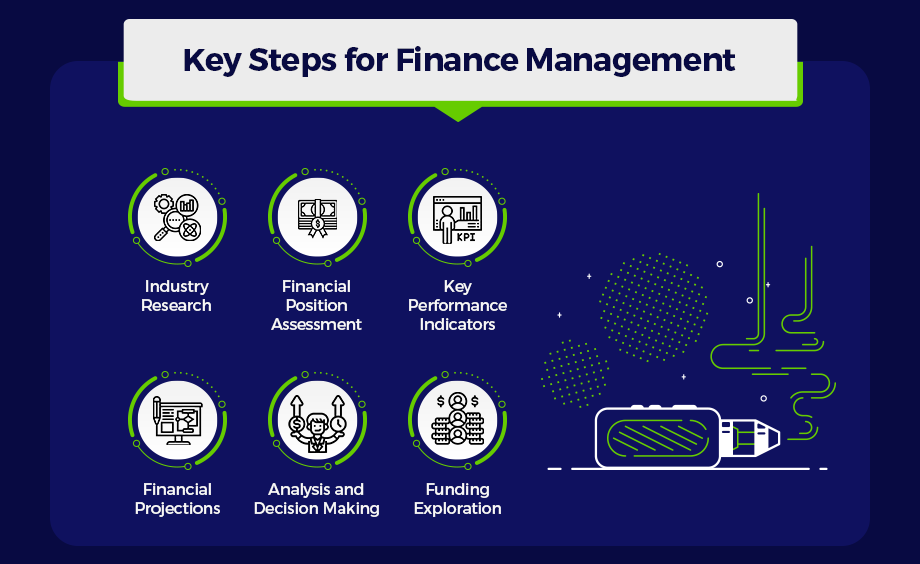 Here's a summary of the key steps and considerations:
Industry Research: Understand your industry, competition, and operational costs to set realistic financial expectations to start a vape business.
Financial Position Assessment: Calculate startup costs, ongoing expenses, and capital to determine the financial feasibility of your venture.
Key Performance Indicators: Develop relevant metrics (KPIs) to monitor and evaluate your business's performance, measure ROI, and make ways to maximize it.
Financial Projections: Create detailed financial projections, forecasting sales, expenses, and cash flow for the first few years of operations.
Analysis and Decision Making: Based on all the research and data collected, find the best revenue model for your vape business. Also, make sure to continuously check it as well and make improvisations as needed.
Funding Exploration: Consider different funding sources, as opening a vape shop requires a substantial capital investment ranging from $20,000 to $50,000. You can surely open a vape shop based on your location and customized business requirements.
9. Challenges and Pitfalls
Opening a vape shop can be a rewarding venture, but it also comes with its fair share of challenges. Identifying these challenges early on is crucial for planning and mitigating potential issues.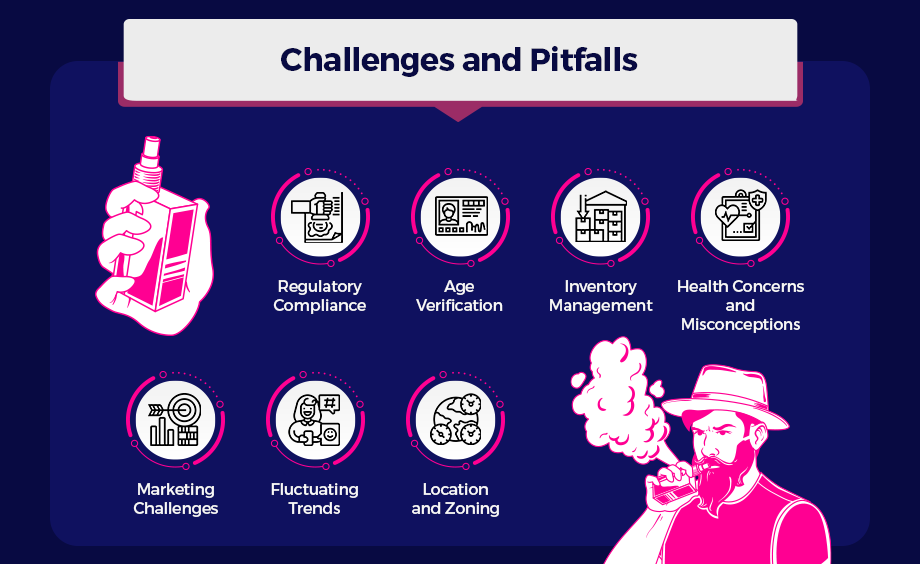 Here are some common challenges associated with opening a vape shop:
Regulatory Compliance: Evolving and often complex regulations on vape products, including age restrictions and marketing restrictions. Also, Keeping up with changing local, state, and federal laws related to vaping.
Age Verification: Ensuring strict age verification procedures is somewhat difficult to prevent underage sales, which is a legal and ethical concern.
Inventory Management: Managing a diverse inventory of vape mods, e-liquids, and accessories with varying flavors, nicotine strengths, and brands.
Health Concerns and Misconceptions: Mitigating health concerns and misconceptions about the vape, particularly in response to negative media coverage and misinformation, is quite challenging.
Marketing Challenges: Limited advertising options due to restrictions on vaping product promotion. With all these limited and restrained brand awareness - marketing and attracting customers can be tough.
Fluctuating Trends: Keeping up with rapidly changing vaping trends and preferences, including new products, flavors, and technology.
Location and Zoning: Finding an appropriate location that complies with local zoning regulations, as some areas may restrict vape-related businesses.
While these challenges are significant, a well-researched business plan, a commitment to compliance, effective marketing strategies, and exceptional customer service can help you navigate them and build a successful vape business.
10. Future Trends and Growth
If you are a new business owner just starting with the process or already have one, coping with the future trends is vital for growth. It is imperative to remain abreast of the most recent vape offerings, flavor innovations, and growing industry trends.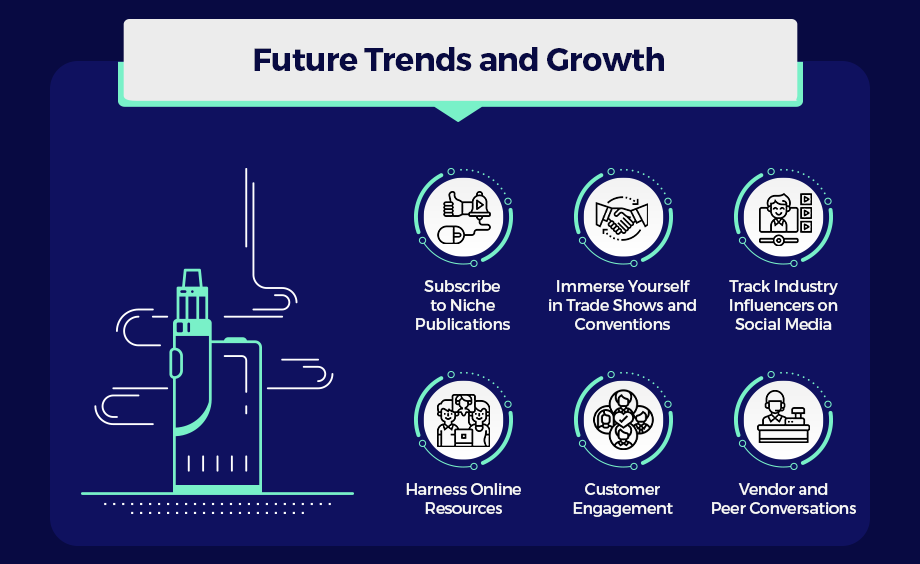 Here are some invaluable tips to keep you at the cutting edge of your vape business:
Subscribe to Niche Publications: Keep a watchful eye on specialized vaping magazines and newsletters, which often provide exclusive insights into emerging products and industry developments.
Immerse Yourself in Trade Shows and Conventions: Attend prominent vape industry expos and conventions, where you can witness firsthand the unveiling of new products and engage with manufacturers and distributors to grow your vape business. It will also enable you to network with fellow business owners to exchange ideas and insights.
Track Industry Influencers on Social Media: Follow influential figures in the vaping community on platforms like Instagram, X (Twitter), and YouTube to connect with a wider audience and boost your business.
Harness Online Resources: Explore dedicated vaping websites, forums, and online communities to stay updated about the latest products and trends and gain valuable insights.
Customer Engagement: Establish a communication channel with your clients by actively soliciting their feedback and preferences. Conduct surveys or hold focus group sessions to understand what your customers desire in terms of flavors and products and make improvisations accordingly.
Vendor and Peer Conversations: Maintain open lines of communication with your suppliers and fellow vape shop owners. They can provide valuable information on current trends and emerging products.
Recap of How to Open a Vape Shop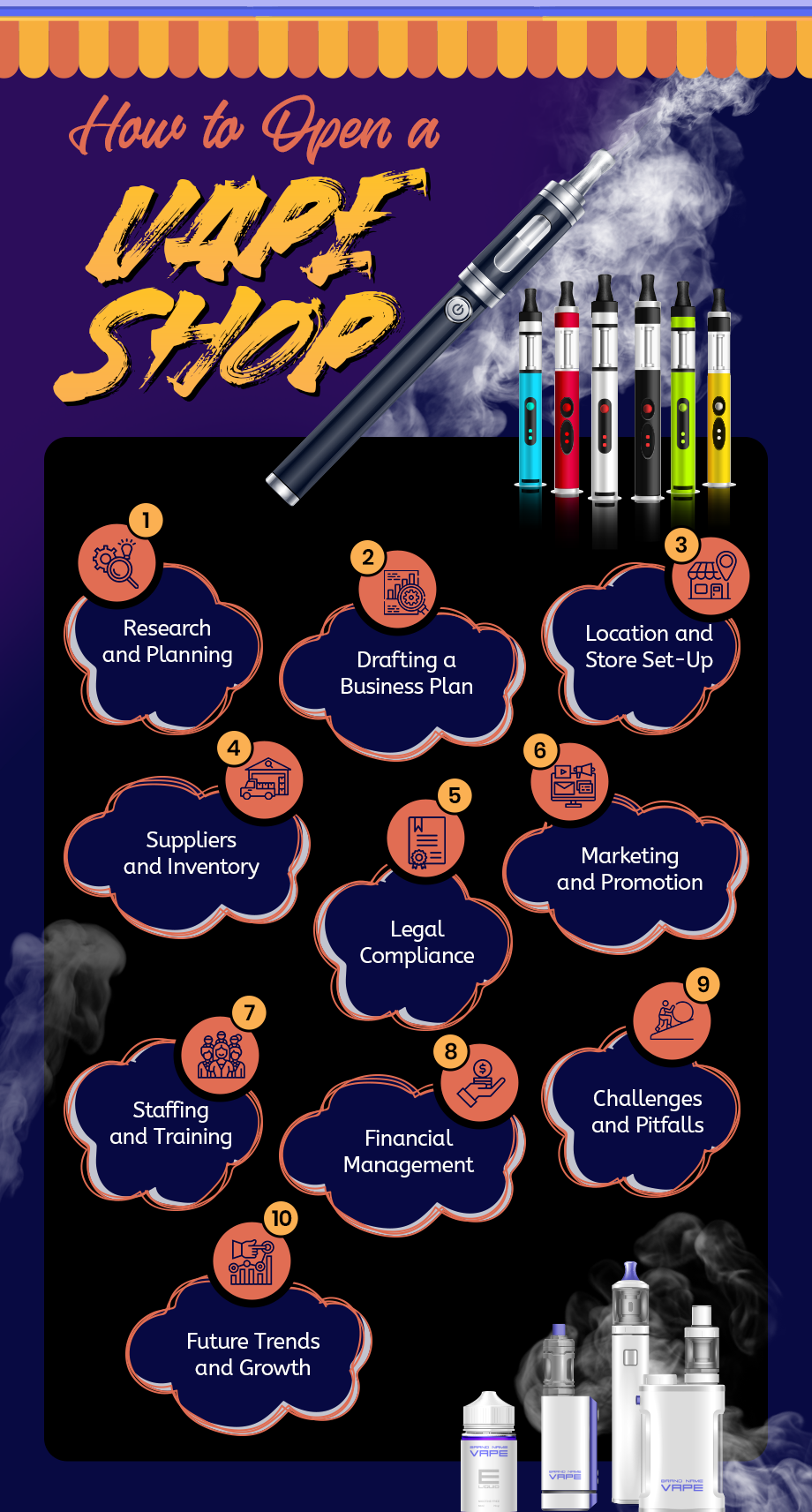 Conclusion
Here's the complete 10-step guide about opening your vape shop. We hope this guide has equipped you with the insights needed to embark on this exciting and potentially lucrative business venture.
Throughout this guide, you've gained an understanding of the importance of thorough research, the essential need for regulatory compliance, and the effectiveness of a well-crafted business plan.
Selecting the ideal location, curating a diverse product lineup, and crafting an inviting store ambiance are all key drivers of a successful vape store business. In the midst of it all, marketing emerges as the required force to get started and build a brand identity while attracting and captivating your audience in a competitive arena.
Your team, financial strategy, and agility in adapting to industry shifts are the gears propelling your success. Yet, at the heart of your vape business are the people you'll serve. Their satisfaction, loyalty, and feedback will be your greatest rewards.
For better results and effective vape store management - get your hands on a feature-rich POS system for vape shop . If you are looking for the best one, reach out to OVVI right away, and our experts will guide you about the smoke shop POS system and its benefits for your vape store.