"Quick summary"Selling food and clothing online is easier than ever. However, selling liquor is an entirely distinct story.
Consumers are spending more time as well as funds online, and liquor products are no exception. eCommerce businesses assist the liquor industry in meeting rising demand. Online liquor businesses make the products available to customers. As a result, creating an online liquor store is one of the most profitable business ideas nowadays.
The alcohol sector has expanded more in the last 18 months than it has in the prior 10 years, and it will expand even more in the years to come. According to early estimates, the liquor industry made around 1.5 trillion in 2021 and will be expected to grow to $2.27 trillion in 2025.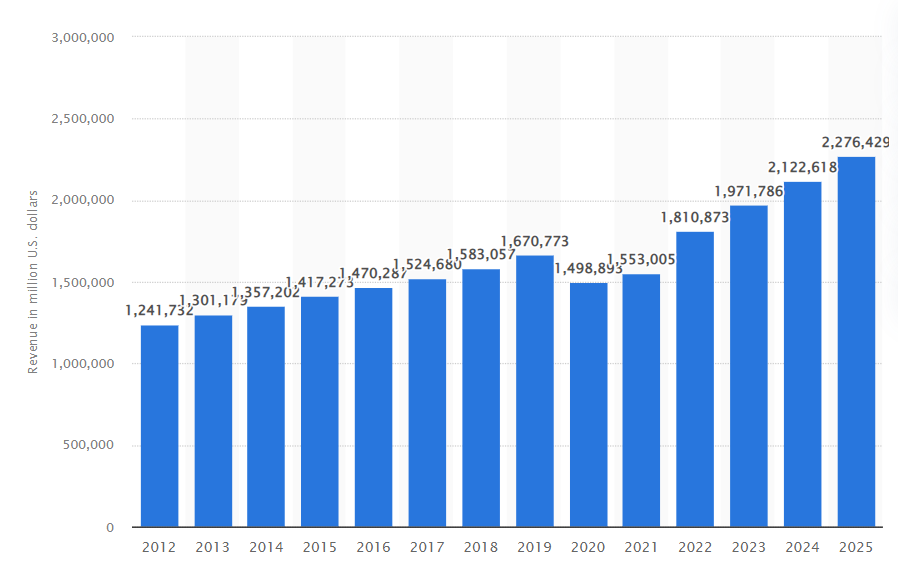 Source: Statista
So, if you'd like to sell liquor online, now is the moment. With that in mind, this blog post will walk you through every step required to sell liquor online in a highly regulated business.
Let's get started.
Conduct Market Research: Understanding the Online Market for Liquor
The very step in starting your online liquor store is conducting research. And research is quite a broad term when it comes to starting a new business, and it will take a significant amount of time and other crucial resources as well. But, it's surely worth investing to earn better ROI in the future.
Here are some of the crucial research that you need to conduct before starting an online liquor store:
SWOT Analysis
Performing a SWOT analysis helps evaluate the strengths, weaknesses, opportunities, and threats associated with your online liquor store.
Strengths: Identify what sets your online store apart, such as unique product offerings, competitive pricing, or exceptional customer service.
Weaknesses: Determine areas that need improvement, like limited brand recognition, a small product range, or potential logistical challenges.
Opportunities: Look for emerging trends in the liquor industry, such as the growing demand for craft spirits or the popularity of online ordering.
Threats: Assess external factors that may impact your business, such as increasing regulatory restrictions, strong competition, or economic downturns.
Competitor Analysis
Thoroughly researching your competitors is also quite crucial to kick-start your liquor store. It helps you better understand their strategies and identify areas where you can differentiate your online liquor store.
Identify Competitors: Find out your direct and indirect competitors in the online liquor market.
Analyze Strategies: Study their marketing approaches, pricing strategies, product offerings, delivery options, and customer engagement techniques.
Differentiation: Determine how you can set your online store apart from competitors.
Analyzing Potential Buyers
Understanding your potential Buyers is also important to differentiate your online liquor store's offerings and marketing strategies.
Demographics: Identify the age groups, gender, location, and income levels of your potential buyers.
Preferences: Research the types of liquor and brands popular among your target audience.
Consumer Behavior: Analyze your potential buyers' buying patterns, motivations, and shopping habits.
Conduct Market Research
Last but not least, you also need to conduct end-to-end market analysis, which provides you with detailed guidance. Market research provides valuable insights into the industry, consumer preferences, and the latest trends.
Industry Analysis: Research the online liquor market, including its size, growth rate, key trends, challenges, or opportunities specific to the industry.
Market Trends: Stay up to date with emerging trends in the liquor industry to better align your product offerings and marketing strategies accordingly.
Customer Feedback: Gather feedback directly from potential customers through surveys, interviews, or social media interactions to make improvements on the go.
By thoroughly researching and considering these aspects, such as marketing ideas for a retail business, you can make informed decisions when starting your online liquor store and increase your chances of success in this competitive market.
Choose a Product Type
Choosing the best POS system for your online liquor store is of utmost importance as it directly impacts customer satisfaction, sales potential, and the overall success of your business.
You can sell all the liquor products in your online store, but believe me - picking a niche and sticking to it would surely go a long way.
You should abide by your market and customer research to choose the best and best-selling products. Through this, you can create a compelling and enticing selection that attracts and retains customers.
However, initially, if you want to sell all types of liquor products to attract a wide customer audience - you can take that way as well.
Here are some of the things you can try to choose the best types of products:
Niche Offerings: Differentiate your online liquor store by offering unique or niche products that may be harder to find elsewhere or cater to the specific customers you are targeting. When it comes to niche offerings, you can add up special spirits, beers, artisanal wines, and rare or limited-edition liquor that attracts your customers' attention - who are searching for unique and premium products.
Popular Liquor Categories: You can even opt for some of the most popular liquor categories for your customers such as whiskey, vodka, rum, tequila, and gin. On your online liquor store, you can even offer a selection of wines (red, white, rosé, sparkling), beers, whiskey, etc. This wide selection of liquor helps you appeal to a huge customer base and even boost the revenues and profits significantly.
Non-Alcoholic Alternatives: Considering the growing demand for non-alcoholic options among consumers, it is among the appealing product types you can keep and sell at your online liquor store. With a wide range of non-alcoholic beverages, you can attract those customers who are looking to skip on alcohol and find healthier options. You can include non-alcoholic beverages like mocktails, alcohol-free spirits, and zero-alcohol beers.
Premium and Value Options: Strike a balance between premium and value offerings to cater to customers with varying budgets. You can include high-end, premium options for customers seeking luxury or indulgence and more affordable options that provide value for budget-conscious liquor consumers.
Get the Suppliers to Start an Online Liquor Store
To ensure that your online business never runs out of alcohol, unless you're brewing beer and cultivating grapes on your own, you'll need an alcohol wholesale supplier.
Research and Identify Suppliers: Conduct thorough research to identify local liquor distributors in your area who have access to a wide range of liquor products for your online liquor store.
Consider the Reliability and Reputation of Suppliers. Look for established suppliers with a track record of delivering products on time and maintaining consistent quality. You can go through online reviews, ask for references, and inquire about their customer satisfaction levels.
Compare Pricing: Evaluate their pricing structures, payment terms, and any available discounts offered by different suppliers. Engage in negotiations to establish favorable pricing and terms. Discuss volume-based discounts, flexible payment options, and any other contractual details that can benefit your online liquor store.
Request Samples: Ask your suppliers for samples to evaluate the quality of the products before committing to larger quantities. It allows you to assess the taste, packaging, and overall suitability of the supplier's offerings.
Build and Maintain Supplier Relationships: Maintain open lines of communication with your suppliers. Regularly update them on your inventory needs, upcoming promotions, or any changes in your business operations that may affect your orders.
Fulfill the License Requirements – What License Is Required to Sell Alcohol Online
Obtaining a liquor license is among the crucial steps toward opening a liquor store. According to the types of alcohol you sell, you'll need different types of permits, and certain states require licenses for home delivery. The best course of action is to review the alcohol regulations in your state and submit an application in accordance with them.
You must have a Terms of Service contract in place that contains all of the necessary information concerning services, such as age verification and other requirements.
Depending on your state's legislation, you'll need:
Alcohol Dealer Registration
State Retailer License
Shipping License
Carrier Shipping Agreements
License from the Excise Department
Health license
Sales tax permit
Inventory/menu proposal
E-commerce liquor license.
You'll need to submit extra documentation, such as your business license and EIN (employer identification number), in order to apply. Remember that the approval process could take up to six months. To receive a license quickly and prevent issues down the road, make sure you include all pertinent and correct information when applying.
Build an Online Liquor Store – A Step-By-Step Guide
Building an Online Liquor Store? This comprehensive step-by-step guide will walk you through the process, from choosing the right products and designing an appealing website to implementing a secure payment system, ensuring a successful launch of your digital liquor business.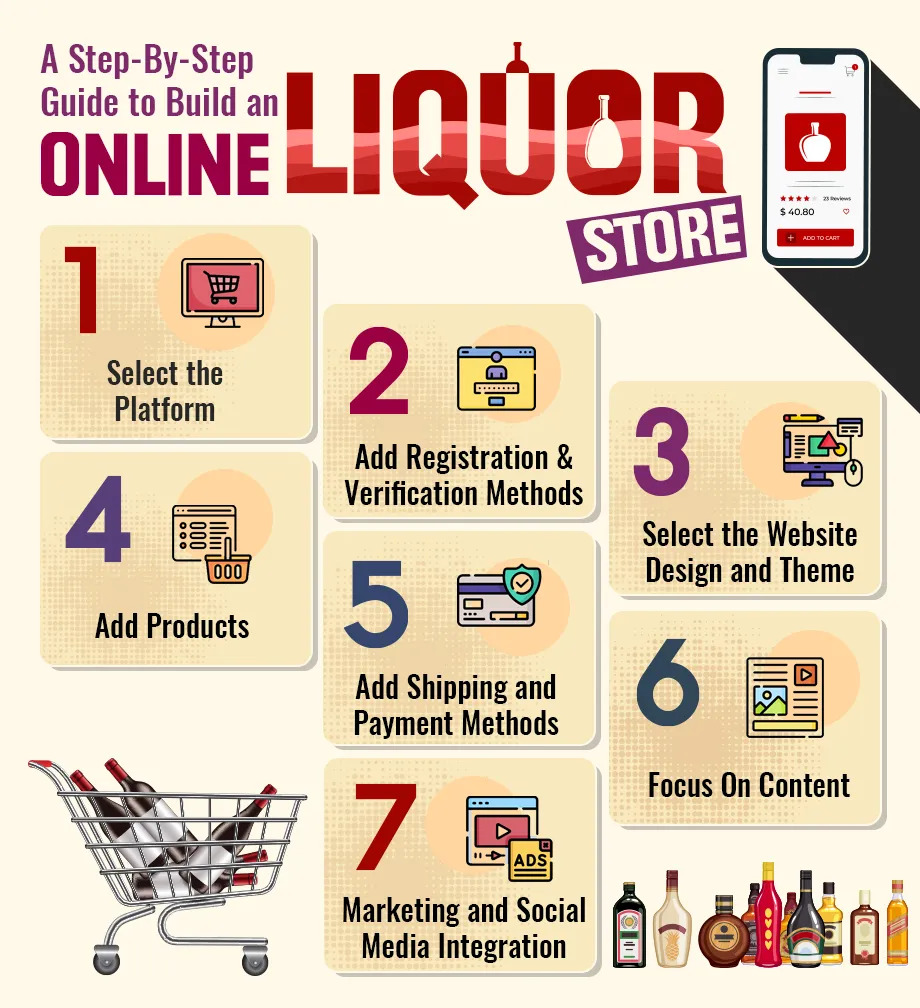 Step 1: Select the Platform
Selecting the right platform is crucial as it forms the foundation of your online liquor store. The platform you choose will greatly impact your store's functionality, user experience, and overall success.
Different platforms offer varying e-commerce features and capabilities. So, you need to assess your specific requirements and choose an ideal platform that aligns with your needs ensuring you can effectively manage and grow your online liquor store.
Here are some of the popular eCommerce store builders:
Shopify: A widely used eCommerce platform known for its user-friendly interface, extensive app marketplace, and excellent support.
Wix: Known for its drag-and-drop website builder, Wix offers a user-friendly interface and a variety of customizable templates.
Magento: An open-source platform with powerful features suitable for larger businesses with a range of personalized features.
Quick Tip: Take advantage of free trials and demos offered by eCommerce development platforms to ensure the best results for your online liquor store.
Step 2: Add Registration & Verification Methods
When you are starting an online liquor store, a business owner must be extremely careful while verifying their customers.
There is a legal drinking age, and it may vary from country to country. Add registration options based on the region you wish to sell alcoholic beverages. Simply put, you will include the terms under which a buyer can register to purchase from your store here. Therefore, it will stop minors from purchasing alcohol from your online liquor store.
Here are the best ways to register & verification customer information:
Implement a conditional login system to prevent underage buyers from accessing your online liquor store.
Clearly state age restrictions and legal drinking age requirements on your website.
Cross-check age verification information with government-issued identification documents.
Implement an age-gate to restrict access to the online liquor store for underage users.
Train delivery personnel to verify the age of the recipient upon delivery.
Note: This step is unskippable to ensure compliance with laws and prevent future problems.
Step 3: Select the Website Design and Theme
When building an online liquor store, selecting a user-friendly design and a responsive theme is crucial for creating a positive user experience and attracting customers.
Here are some crucial considerations for choosing the right design and theme:
Intuitive Navigation: Choose a design that offers intuitive navigation, making it easy for customers to find products, browse different categories, and access, leading to increased user experience.
Mobile-Friendly Design: Opt for a responsive theme that adapts to different screen sizes and devices. With the increasing use of mobile devices, it is essential that your liquor store looks and functions well on all devices.
Visual Appeal: Select a visually appealing design that aligns with your brand image. Consider the aesthetics, color scheme, and overall layout to create a cohesive and engaging online store.
Customizability: Look for a design and theme that offers customization options. It allows you to personalize and tailor your online liquor store to your brand identity.
User-Friendly Interface: Prioritize a user-friendly interface that is easy to navigate and understand. Avoid cluttered layouts and opt for a clear and concise website layout for your liquor store.
Page Loading Speed: Choose a design and theme that is optimized for speed and performance, ensuring that your liquor store loads quickly across different devices and internet connections
Step 4: Add Products
When setting up an online liquor store, curating a wide range of products is crucial to attract customers and provide them with a diverse selection. You surely have a huge collection, but at the same time, it is also crucial to display it in an attractive and clear manner.
Here are the tips to add products to your liquor store:
Comprehensive Product Catalog: Create a comprehensive catalog that includes a variety of liquor types with a diverse range of brands and flavors. Organize products into categories and subcategories to facilitate easy navigation and browsing.
Attractive Product Images: Capture high-quality product images that showcase the bottle, label, and packaging in an appealing way. Use consistent and visually appealing images for your online store to maintain a professional and enticing look.
Pricing: Clearly display the prices on the product pages and ensure they are updated regularly to reflect any changes. Also, add special deals, promotions, or discounts on select products to entice customers and drive sales.
Step 5: Add Shipping and Payment Methods
When setting up an online liquor store, it is essential to establish reliable and secure shipping and payment methods.
Shipping: Shipping is a critical aspect of running an online liquor store as it ensures that your products reach customers safely and on time. Collaborating with reliable shipping partners in handling alcohol shipments is crucial. Also, make sure to consider factors such as tracking capabilities, appropriate packaging, and compliance with legal regulations to ensure a smooth shipping process.
Payments: Offering secure and convenient payment methods is essential for an online liquor store. Integrate trusted payment gateways that ensure the safety of customer transactions. And also, don't forget to provide multiple payment options, including credit/debit cards, digital wallets, and alternative payment methods.
Maintain a seamless checkout process with clear instructions and error handling. Also, implement a transparent refund and return policy to provide a positive customer experience in case of any issues.
Step 6: Focus On Content
When building an online liquor store, adding product-specific and SEO-friendly content is crucial to attract customers and improve search engine visibility.
Here's how you can effectively create content for your liquor store:
Product Descriptions: Write unique and informative descriptions for each product in your catalog. Highlight serving suggestions, alcohol content, volume, production methods, ingredients, and any certifications or awards of the product.
Use SEO Keywords: Conduct keyword research to identify relevant keywords. Optimize meta tags, headers, and alt text for images with relevant keywords to enhance search engine optimization.
Unique Selling Points: Highlight the unique selling points of each product. Whether it's a rare vintage, a special aging process, or a distinct flavor profile, emphasize what sets the product apart from others in the market.
Storytelling and Branding: Share the story behind the brand and the product. Include information about the brand's heritage, craftsmanship, sustainability efforts, or community involvement. Customers appreciate authentic stories that create a connection and resonate with their values.
Customer Reviews and Ratings: Display customer reviews and ratings alongside each product. Positive reviews provide social proof and build trust among potential buyers.
Step 7: Marketing and Social Media Integration
You've finally created a stunning eCommerce store to sell liquor online, but the hard work doesn't stop there. Yes, you can now deliver high-quality liquor to your customers all over the world.
But you have to advertise your online liquor store effectively and get your business out there before you can start generating substantial money. To reach new customers and increase revenue, you must master digital marketing.
Social Media Marketing: First and foremost, you should link your online store to popular social networking platforms. Users of social networks can access your online store with only one click, which is available on the most popular website builders such as Square Online, Shopify, and Wix. You can even leverage the effectiveness of influencer marketing as well to reach more customers and boost your revenues.
Quick Tip: Video marketing is among the most attractive forms of advertising, which you can use on your website, e-commerce marketplace, and even social media channels. As per statistics, users spend 88% more time on websites with videos, so include one of yours to keep visitors interested in your business.
Email Marketing: Another beneficial marketing idea is email marketing. You should create a mailing list so you can send customers regular newsletters and coupon offers to keep your business top of mind. Email addresses are like flakes of gold for digital marketers, so you should offer discounts, loyalty programs, and newsletter subscriptions to get the mail id of your potential customers.
Offline Marketing: To get the word out about your business and get more clients to your online store, don't forget to take your marketing efforts offline by attending any relevant roadshows or expos.
Maximize your liquor store's potential with our feature-rich POS system. Get started and elevate your business! Schedule a demo
Build a Mobile App to Sell Liquor Online!
Initially, you should develop a website for your online liquor store, and as your customer base grows, you should opt for the mobile app. Developing a mobile app comes with so many benefits. To know more about the benefits - keep reading!
Here's why developing a mobile app is important:
Increased Accessibility: A mobile app offers a convenient and accessible platform for customers to browse and purchase liquor products directly from their smartphones. It eliminates the back & forth, making it more convenient for on-the-go customers.
Personalized Experience: With a feature-rich mobile app, you can provide a personalized experience for your potential customers. You can leverage features such as user profiles, order history, and personalized recommendations based on past purchases to enhance customer engagement and loyalty.
Push Notifications and Marketing Opportunities: With a mobile app, you can send push notifications to notify customers about special promotions, new arrivals, or exclusive offers. It can significantly improve customer engagement and drive sales.
Enhanced User Interface and Performance: Mobile apps are designed specifically for mobile devices, offering a user-friendly interface optimized for smaller screens. It results in a smoother and more intuitive browsing experience for customers, leading to increased customer satisfaction and retention.
Brand Visibility and Recognition: A mobile app for your liquor store can improve your brand visibility and recognition. It serves as a constant reminder of your brand on customers' devices, reinforcing your presence and making it easier for them to engage with your store.
Start Selling Liquor on Online Marketplaces
Expanding your liquor business by selling your products on well-known marketplaces can be a smart strategy to reach a wider customer base and maximize your sales potential.
These established platforms offer increased exposure, built-in trust, and a ready-to-shop customer base.
Here are the tips to keep in mind before selling liquor on online marketplaces:
Research Marketplace Policies: Before listing your liquor products on a marketplace, thoroughly review and understand the platform's policies, guidelines, and restrictions regarding alcohol sales. Each marketplace may have specific requirements and regulations that you must comply with.
Ensure Compliance: Ensure you have all the permits, licenses, and certifications required for selling alcohol in your target markets. Adhere to local laws and regulations regarding age verification, shipping restrictions, labeling requirements, and any other legal obligations specific to the sale of alcohol.
Optimize Product Listings: Pay attention to optimizing your product listings on the marketplace. Write compelling and accurate descriptions, include high-quality images, and use relevant keywords to enhance visibility in search results.
Competitive Pricing: Research and analyze pricing trends for similar liquor products in the marketplace. Set competitive pricing that aligns with customer expectations and market standards.
Customer Service: Maintain excellent customer service to build a positive reputation in the marketplace. Respond promptly to customer inquiries, provide accurate product information, and address customer issues promptly.
Benefits of Selling Liquor on the Marketplace
If you are thinking of opening a liquor store and selling it on popular marketplaces, then it is beneficial. Customers can easily access your liquor store from their chosen marketplace while even avoiding the hassle of downloading another app. Also, it adds to the trust of your liquor as well - leading to better customer satisfaction and revenues as a whole.
Below, we will be adding all the benefits of selling liquor in the marketplace in detail to give you a better understanding. Here's everything it includes:
Established Infrastructure
One of the major advantages of selling on a marketplace is the availability of an established infrastructure and customer base for your online liquor sales.
These platforms effectively manage crucial elements, namely secure payment processing, customer support, and logistics - which makes them quite easier for liquor store owners.
While leveraging the marketplace's existing infrastructure can save you enormous time, resources, and technical expertise, which you can utilize in other crucial business activities.
Increased Exposure and Reach
Marketplace platforms have a large customer base and existing traffic, providing online liquor sellers with immediate exposure to a wide audience.
When you list your liquor products on a marketplace, you can tap into the platform's customer base and reach customers.
This expanded reach can significantly increase your visibility and attract more potential buyers, thereby boosting your sales potential.
Enhanced Credibility and Trust
Selling on a reputable marketplace can enhance your credibility and build trust among your customers. The credibility associated with the marketplace can give customers the required confidence in purchasing from you, especially if you are a new or lesser-known brand.
Marketplace platforms often have stringent seller verification processes and buyer review systems in place. These mechanisms help establish solid trust by verifying the authenticity and reliability of sellers.
Positive buyer reviews and ratings can further enhance your reputation and encourage potential customers to trust your brand & liquor products.
Marketing and Promotional Opportunities
Many marketplace platforms offer various marketing and promotional tools to help sellers boost their visibility and attract customers. The features include featured product placements, advertising options, and targeted campaigns.
With out-of-the-box marketing and promotional features, you can increase your brand awareness, increase your liquor offerings' exposure, and attract a larger customer base.
Some marketplaces have built-in marketing capabilities that allow you to run promotions, discounts, or cross-selling initiatives, helping you to drive sales and encourage customer loyalty.
Simplified Inventory Management
Marketplace platforms typically provide inventory management tools that allow you to track and update product availability in real time.
Streamlined inventory management simplifies the whole process, as you can efficiently manage stock levels, avoid overselling or stockouts, and maintain accurate product listings.
These features of the marketplace platform even helps you maintain a positive customer experience by ensuring that products are available and can be delivered promptly.
Access to Analytics and Insights
Marketplaces even provide sellers with valuable analytics and insights about customer behavior, sales trends, and product performance.
These data-driven insights can help you make informed business decisions, optimize your product offerings, and tailor your marketing strategies to better target your audience.
With a better understanding of customer preferences, purchase patterns, and market trends through the marketplace's analytics tools, you can continuously improve your offerings, pricing strategies, and promotional efforts.
Summary of Starting an Online Liquor Business
Finally, let's address the key question. Is it logical to sell alcohol online? Yes, it is! Customers now want to purchase anything online, including shoes, food, and a wide range of other items, in addition to clothing and technology.
Now that doorstep delivery is an option, people choose to order and pay for everything and everything. Therefore, selling alcohol online is a reliable and profitable business idea.
Furthermore, the number of buyers and their demand to consume alcohol is growing by the day. All in all, starting an online liquor store presents a promising opportunity to tap into a growing market and reach customers beyond geographical limitations.
You can build a successful online liquor store with careful planning, attention to legal regulations, and strategic considerations.
Remember to stay adaptable, continuously monitor market trends, and provide excellent customer service to build a loyal customer base. With the right approach and dedication, your online liquor store has the potential to thrive in the competitive landscape of the alcohol industry.