"Quick summary" Food trucks are becoming increasingly popular, especially among business owners who want to escape the 9 to 5 grind. But whether you're taking cash or credit cards, having a successful food truck business requires managing transactions swiftly and efficiently.
Apart from high-quality food and a range of items at affordable rates, customers also want a quick and better customer experience. Many of them won't stand in line while you deal with an outdated ordering system and an old-fashioned pay register.
You need a robust POS system for your food truck business to solve this problem.
The ideal point-of-sale (POS) system for a food truck gives you all the tools you need to accept various forms of payment and keep a record of orders while rendering efficient customer service. It results in safe and quick transactions, improving customer satisfaction and better sales.
Keep reading to know more about the benefits of pos in the food truck business and its importance!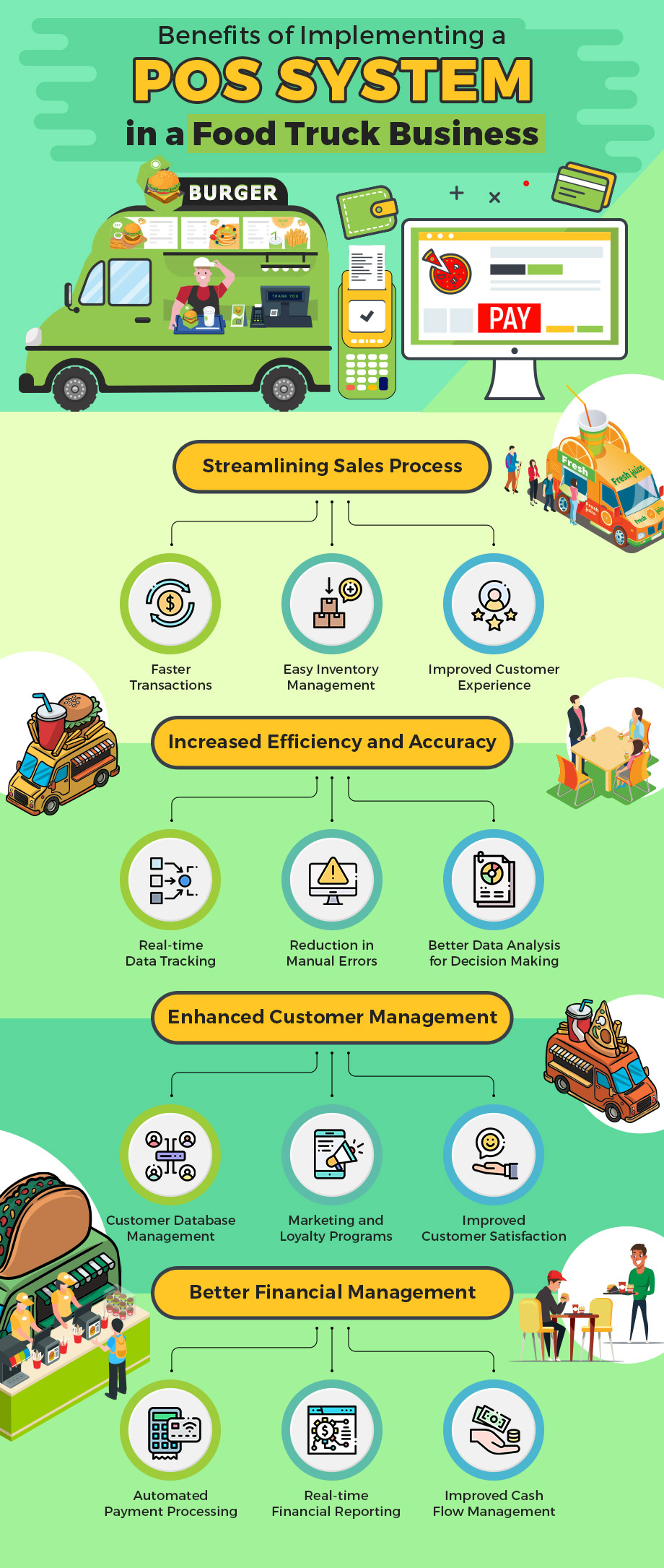 1. Streamlining sales process
A. Faster transactions
The time-saving characteristics of a POS system for a food truck business are its best functionality. They not only save you a ton of time, but they also significantly increase your sales.
With the robust POS system, your clients don't have to stand in long queues. You can quickly accept orders and payments from your customers through your mobile, making the entire process relatively faster, easy, and systematic for businesses and customers.
It goes without saying that your speedy service will increase sales and improve client satisfaction.
B. Easy inventory management
According to research, more than 34% of food truck operators keep trying to make new dishes that appeal to the customers. And only with the right ingredients can you ensure an extraordinary dish. On top of it, to keep serving all the dishes at the right time, you must ensure you have all the ingredients in the right quantity.
With the systematic POS system in place, it helps you manage the inventory in the best possible manner and offers efficient customer service while minimizing costs and reducing wastage.
Inventory management becomes much easier with POS system out-of-the-box features such as real-time alerts, database management, and streamlined processes.
C. Enhanced sales
A Point of Sale system can help increase sales in several ways. It streamlines the checkout process, making it faster and more efficient for customers. It can increase customer satisfaction and encourage customers to return for future purchases.
A POS system for food truck businesses can provide valuable data and insights into customer behavior and purchasing patterns, increasing sales by making it easier for customers to purchase using their preferred payment method.
Overall, a well-implemented food truck business POS system will improve operational efficiency, provide valuable insights, and ultimately increase sales.
2. Increased efficiency and accuracy
To appeal to new customers and retain the existing ones, a food truck's menu may change every week or every day!
Your menu becomes exciting and appealing with specials, event-specific goods, catering choices, and even updated prices. However, you don't need to personally be inside your food truck to make the adjustment or update your system.
A cloud-based food truck business POS system allows you to add or delete menu items and modify prices virtually whenever and wherever you are.
In a food truck setting, things move rapidly. So it's crucial to pick a point-of-sale system that enables you to adjust your menu or prices swiftly wherever you are.
B. Reduction in manual errors
Point of Sale (POS) systems automate numerous manual procedures in retail transactions, lowering the risk of human mistakes.
A POS system often features a database of products that easily updates, ensuring accurate information about the product and lowering data entry errors. The system executes calculations automatically, minimizing the possibility of inaccuracies that might happen when computations are performed manually.
A POS system for food truck businesses can detect mistakes like incorrect prices or out-of-stock items, which helps lower the risk of overspending or stock inconsistencies.
Overall, a POS system's automated procedures, provision of reliable data, and error-checking features reduce manual errors.
C. Better data analysis for decision-making
Customers today have changing demands, wants, and preferences. As a result, metrics and feedback are crucial in every industry. They are essential for changing menus and providing better service in the restaurant industry.
It is simple to access any report whenever you need it from the data with a sound POS system. An advanced POS system can record data and provide end-to-end reports of your food truck business to ensure you never miss a thing.
Additionally, it enables you to verify and compare your sales data to assess your most lucrative items, location, devoted consumers, and other factors, which help you make the right business decisions.
3. Enhanced customer management
A. Customer database management
Personalized data of your customers is very crucial for the expansion of your food truck business.
POS systems maintain the customer database and enable the generation of customized performance reports.
The POS system gives you access to various types of information, such as
Sales information, including hourly sales, the most popular menu item sales, combo items, etc.
Data on inventory management
Statistics on labor management and costs
Customer loyalty information
Average customer information
By gathering this data, you can improve your menu and marketing efforts and take appropriate action, significantly raising consumer satisfaction.
B. Marketing and loyalty programs
Many food trucks gain a devoted following of people who love to brag about their finds on social media. With a food truck POS and a customer loyalty program, you can recognize these loyal customers, communicate with them, and reward them for their commitment.
According to the Pareto Principle, 20% of your clients account for 80% of your revenue. Therefore, make sure you keep them.
Furthermore, you can segment your promotional list and provide devoted clients with insider knowledge about your upcoming place, new menu options, discount coupons, offers, and much more with your POS system CRM (customer relationship management) feature. It will help you grow your customer base and retain the current one.
C. Improved customer relations
Customers are companies' most valuable asset, so maintaining good customer relations is always essential. Your food truck's use of a robust POS system for data administration, customer care, rapid services, and inventory gives you a chance to cultivate your customer relationships in an organized manner.
If the customer receives the greatest and most tailored customer care, they will surely return and even recommend it to their family and friends. Additionally, the most incredible POS system can assist you in creating potent and more effective client interactions because of its out-of-the-box features.
4. Better financial management
A. Automated payment processing
A Point of Sale (POS) system can help automate payment processing, making transactions faster and more efficient. With a food truck business POS system, payments can be processed electronically, eliminating the need for manual cash handling and reducing the risk of errors.
The system can accept various forms of payment, such as credit and debit cards, and process them securely. It saves time and provides an electronic record of all transactions used for accounting and reporting purposes.
Additionally, automated payment processing helps streamline the checkout process, improving customer experience and satisfaction. With a POS system, retailers can process payments more efficiently, reducing the risk of manual errors and improving the overall accuracy of their financial reports.
B. Secure payments
Customers are concerned with the safety of mobile and internet payment solutions. They are concerned about identity theft, account data breaches, and security. Thankfully, the top POS systems for food trucks provide strong security.
Furthermore, cashless payments are becoming increasingly popular as they are safe, simple, and convenient. You will win them over by providing protected contactless payment to your clientele.
Strong POS accepts various payment methods and encrypts them for protection and privacy. The data protection elements eliminate the possibility of thefts, making your customer feel safe and trusted regarding your business.
C. Improved cash flow management
As a food truck business owner, it is important for you to track your business expenses and cash flow efficiently to get the best possible returns.
A POS system provides
Real-time data on sales.
Allows retailers to monitor cash flow and make informed decisions about inventory levels.
Staffing updates.
Other expenses.
It even reduces manual errors, improving the accuracy of financial reports and cash flow projections, leading to better cash management.
A POS system for food truck businesses can also help manage inventory levels, ensuring that retailers have the right products in stock. It helps them improve cash flow by reducing waste and maximizing the return on investment.
Conclusion
The fierce competition makes it more challenging for food truck businesses to succeed. However, you can make it possible with the appropriate business model and high-quality customer services.
Innovative POS solutions simplify the second part of the process for business owners.
A POS system for a food truck is an excellent investment. It has a significant and advantageous commercial impact on your business. Our POS includes unique, valuable, and high-quality features that impact the customer experience in numerous ways.
However, choosing the correct POS system to meet your company's needs is challenging!
If this blog has got you excited and you are determined to invest in a POS system for your food truck business, we have got you covered. Simply drop us your concerns at [email protected]. Our sales champions are all set to help you achieve your dream of owning a successful and profitable food truck business.