"Quick summary" Ghost kitchens. Cloud kitchens. Virtual Kitchen. Dark kitchens.
Most likely, you've lately heard at least one of those terms or even all of them. And (of course) because these are some of the most trending things you heard in this industry.
These kitchens are delivery-only restaurants focusing on delivering delectable dishes to the customer's doorstep. By 2027, the global ghost kitchen market is expected to have more than doubled from its current size, reaching a startling $71.4 billion.
However, unlike a real ghost, the popularity of ghost kitchens doesn't just happen overnight. Making the appropriate actions is crucial for success in this new market.
So, we created a success checklist to aid in the growth of your ghost kitchen. If you are looking forward to it, then keep reading. Our comprehensive guide will assist you in how to get started and expand your ghost kitchen business. Let's get started!
Check Out the Comprehensive 20-Step Checklist to Start & Expand Your Ghost Kitchen: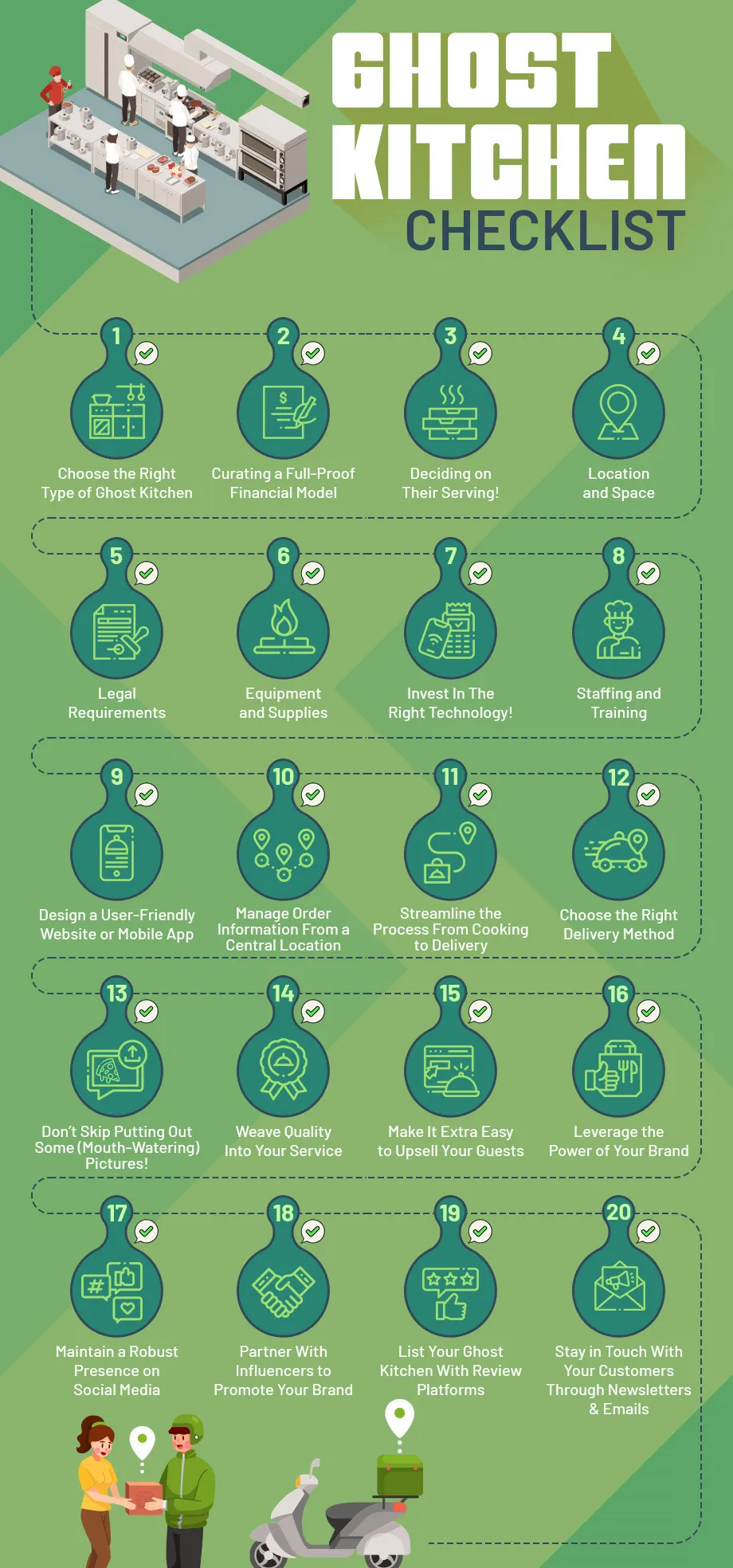 Looking to start or expand your ghost kitchen? Our comprehensive 20-step checklist has you covered! From planning to operations, marketing to logistics, we cover it all. Ensure success with our guidance.
1. Choose the Right Type of Ghost Kitchen
First things first, to get started with your kitchen, you need to decide on the type of ghost kitchen. As we know, the fundamental idea behind ghost kitchens is quite simple. It's a virtual restaurant with merely a kitchen that fulfills takeout and delivery orders. But there are several ghost kitchen models to accommodate various requirements.
Now, let's look at those.
(A) Commissary Kitchen
The commissary kitchen is the most common model. Commissary kitchens are communal cooking areas used by various online eateries that pay by the hour to use them. The key advantages of using commissary kitchens are accessibility, ease of use, and (of course) cost.
(B) Commercial Kitchen
Commercial kitchens are the greatest alternative for more established restaurants with huge quantity orders. The biggest advantage of opting for a commercial kitchen is that they provide a dedicated area for the sole purpose of processing orders for your restaurant.
(C) Pop-Up Kitchen
Pop-up kitchens function out of spare kitchen space in brick-and-mortar restaurants and food trucks. Employees in the area are solely responsible for fulfilling online and delivery orders. Pop-up kitchens' key advantage is that they provide already-established restaurants a chance to try out different sources of income.
(D) Kitchen Pods
Kitchen pods are compact ghost kitchens with only minimal supplies and equipment because they are typically built-in shipping containers. This configuration makes kitchen pods portable to many places and enables them to serve clients directly for takeout orders. The key advantages of kitchen pods are their portability and low initial investment.
2. Curating a Full-Proof Financial Model
The most crucial step in launching a business is to conduct a financial analysis of it. Even for ghost kitchens, it is not any different. Entrepreneurs must develop a workable financial plan before starting their ghost kitchen business. It will make calculating the ghost kitchen's prospective earnings and expenses easier.
Here's how you can do it:
Use dependable budgeting solutions to customize and comprehend how to plan your expenses and income. Several free online resources can assist you in building precise financial models.
It's crucial to start with a rigid budget and anticipated costs. Keep in mind that these costs do not stop with food; you also need to cover cooking equipment, licensing, delivery fees, and other charges.
Examine similar ghost kitchens and their financial models to determine the possible revenues for your business. Getting a grasp of market values and spotting potential gaps will be much easier as a result.
Making a financial model and thoroughly analyzing it can assist you in spotting potential problems and assisting you in preparing for any potential financial risks connected with the ghost kitchen venture (both in the present and the future).
So, go through these tips and make sure you articulate the best yet profitable business plan.
3. Deciding on Their Serving!
Choosing the type of food to provide is frequently one of the crucial phases in opening any type of restaurant. A lot of restaurant owners base their choice on their personal preferences or what is simple to prepare.
However, it's not a bad idea either. But, you even decide on the type of restaurant you open based on the market they intend to serve. For instance, a busy commercial area with few pizza eateries might be the right location to open a pizza ghost kitchen.
To make the most of your limited kitchen area and guarantee quality food in delivery, successful ghost kitchen entrepreneurs frequently design their menus - keeping in mind the demand, delivery, and target market. You can then opt for curating a few signature dishes that you specialize in, allowing you to keep the ingredient list simple and to high-quality standards.
4. Location and Space
One of the main advantages of the dark kitchen design is that you don't have to spend a fortune for prime high-street real estate. You can select a location based on the demand by looking at the raw search and ordering information gathered by delivery applications and search engines.
It frequently refers to a less expensive out-of-town location where you can obtain more space for less money. You are fine as long as there are enough hungry locals close by.
Here are some things you should consider before choosing the right location for your ghost kitchen:
Are there parking spaces and entry points for food delivery services?
Is there space for larger trucks and vans for transporting forthcoming stock?
Do the utilities meet your needs? In a busy commercial kitchen, you could want a huge volume of electricity and water capacity.
Is there adequate room for the necessary equipment and supplies?
Do you need to make any changes to the building to ensure safety?
All this requires careful thought. However, everything surrounding the ghost kitchen will start to make sense after you choose your specific location, and tasks will become simpler.
5. Legal Requirements
After deciding on your location, you also need to ensure that you completely comply with all safety standards, whether you will be working from home or another location, particularly when dealing with food. To run your business, you must obtain a number of licenses and permissions.
You never know when an inspector from the local health department will stop by to check how you conduct business.
Having all of your permissions and documentation available before commencing your operation will help you prevent complications in the future. The process and specific criteria will vary depending on your location but will almost certainly entail business and food service licenses.
Also, when preparing or delivering meals to customers, be aware of local laws and ordinances, as you can be subject to frequent inspections.
6. Equipment and Supplies
Selecting the appropriate and high-quality equipment and supplies is vital for a ghost kitchen's long-term success. The top-notch equipment and supplies help in maintaining efficiency, food safety, and the quality of the food served to customers. It even boosts productivity and customer satisfaction while reducing waste, expenses, and the risk of health code violations.
Here are some of the essential Equipments & Supplies you will need for your ghost Kitchen:
Oven
Deep fryer
Grills
Commercial mixer
Food processor
Commercial blender
Freezer
Dishwasher
Sinks and handwashing stations
Shelving and storage units
POS system and tablets
Prep tables and cutting boards
Heat lamps
Exhaust hood and ventilation system
Fire suppression system
Trash and recycling bins
Supplies:
Cookware (pots, pans, baking sheets)
Utensils (spatulas, spoons, tongs, knives, cutting boards)
Food storage containers and lids
Aluminum foil and plastic wrap
Cleaning supplies (sanitizer, dish soap, scrubbers, sponges, mops, brooms, dustpans)
Labels and markers for food labeling
Paper towels and napkins
Disposable food containers and utensils
Food ingredients and supplies (varies depending on the menu and cuisine)
It's very important to consider your ghost kitchen business requirements and not hoard everything you see on the list. (It saves your money and even space in your ghost kitchen).
7. Invest In The Right Technology!
A key component of any ghost kitchen business is investing in the appropriate technology to manage your invoices, finances, inventory, and orders. To improve end-to-end administration, take action and invest in POS software that enables you to sync your ghost kitchen activities with your app, website, or any other third-party solutions.
Additionally, you can choose to use ghost kitchen software, which offers a variety of potent features, as part of an all-in-one online ordering and delivery strategy.
These include easier menu administration, QR code menus, support for many locations, online ordering and fulfillment, the priority of the best delivery platforms, language translation, website integration, ongoing updates, and SEO optimization.
As a result, think about your business needs and make choices accordingly.
8. Staffing and Training
Ghost kitchens eliminate the requirement for front-of-house workers, which may reduce your labor expenditures. However, you still need to employ and train expert and skilled cooks accordingly. Ghost kitchens require a team of skilled and experienced staff members who have the required know-how to operate the equipment and prepare food promptly and efficiently.
In addition to staffing, training is also crucial in a ghost kitchen. You need to thoroughly train your members on all aspects of the kitchen's operation, including food preparation, equipment operation, health and safety protocols, and customer service. Proper training ensures that staff members can work efficiently and safely and provide high-quality service to customers.
Make sure that your staff is fully aware of the entire process and best practices so that you can maintain low food expenses and good profit margins.
Ghost kitchens rely heavily on technology and automation, so it's essential that staff members are trained to operate the equipment and technology used in the kitchen. Regular training and updates on the latest technology can help staff members work more efficiently and effectively.
9. Design a User-Friendly Website or Mobile App
As more and more people are using mobile devices to access the internet, having a user-friendly website or app is crucial for your ghost kitchen and can help you reach a wider audience(easily).
It makes a convenient and accessible way for customers to access your menu, place an order, and pay for their meals. Moreover, a well-designed website or app can improve the overall customer experience, resulting in increased satisfaction and loyalty.
Customers are more likely to return if they have a positive experience, and a user-friendly website or app can go a long way in achieving that.
Here are some tips for designing a user-friendly website or mobile app for your ghost kitchen:
Keep your website or app's interface simple and easy to navigate. You can use clear and concise labeling for all menu items, prices, and descriptions to make it possible.
Also, don't forget mobile responsiveness for your website or app, and it is optimized for all screen sizes.
Provide real-time updates on the order status, such as order confirmation, preparation, and delivery status. It will give customers peace of mind and create a more positive experience.
Allow for menu customization based on dietary restrictions or preferences. It can set your ghost kitchen apart from others and create a more personalized customer experience.
Consider including high-quality images in your menu items to entice customers and improve the overall customer experience of your digital shop.
In the end, make absolutely sure that the website or app is secure and that customer data is protected to build trust and credibility with your customers.
10. Manage Order Information From a Central Location
Managing order information from a central location is important in a ghost kitchen, resulting in efficiency and a successful ghost kitchen business.
Here's how this centralized management will help you ghost kitchen:
(A) Streamlining Operations
A centralized system allows for the efficient management of orders, ensuring that they are received, processed, and fulfilled in a timely manner. It can help streamline operations, reduce wait times, and improve the overall customer experience.
(B) End-To-End Inventory Management
A centralized system can help track inventory levels in real-time, allowing ghost kitchens to optimize their stock levels and avoid stockouts. It ensures they always have the necessary ingredients and supplies to promptly and efficiently fulfill orders.
(C) Seamless Integration with Third-Party Delivery Platforms
Many ghost kitchens rely on third-party delivery platforms to receive and fulfill orders. A centralized system can seamlessly integrate with these platforms, ensuring that all orders are received and processed promptly and accurately.
(D) Enhanced Reporting and Analytics
A centralized system can provide valuable insights into order data, including order volumes, peak hours, and customer preferences. This information can help ghost kitchens optimize their operations, make data-driven decisions, and improve their overall performance.
(E) Improved Communication
With a centralized system, all staff members have access to the same order information, ensuring that everyone is on the same page. It can help improve communication and collaboration among team members, leading to a more efficient and effective operation.
11. Streamline the Process From Cooking to Delivery
The ghost kitchens with the biggest profitability also have some of the highest productivity levels. Every stage of the fulfillment process has been optimized in these restaurants, from taking orders to cooking food to delivering it to customers. So, being a ghost kitchen owner, you need to make some proactive steps to streamline the entire process.
But now the question is, how can ghost kitchens streamline their processes to gain the most? They could start by concentrating on streamlining the menu and the meal preparation procedure.
Opt for limited menus that are simple to understand and quick to prepare to save ghost kitchen staff important time, which translates to lower labor expenses and a higher volume of orders being processed out the door.
These constrained menus use fewer ingredients so that ghost kitchens may have a lesser stock on hand. Stockpiling less inventory leads to decreased waste and less difficulty with supply chain deficits, both of which have an effect on the bottom line.
12. Choose the Right Delivery Method
Choosing the best delivery method for your ghost kitchen to ensure seamless and timely delivery is one of the most important factors to take into account when launching it. Selecting between in-house delivery, third-party delivery applications, or a combination necessitates a grasp of the associated expenses.
For delivering meals to your clients, third-party delivery services like DoorDash, Grubhub, Postmates, and Uber Eats charge a commission.
Even while the costs may seem high, you are using tried-and-true technological platforms to reach more customers, putting your brand out there, interacting with clients, taking online orders, and offering dependable delivery execution.
But be sure to take the commission from outside apps into account when calculating the profit margins for your meals.
However, suppose you are handling delivery on your own. In that case, you'll need to arrange your labor and add vehicles and drivers to your schedule to avoid high third-party delivery fees and provide existing staff members with work during restaurant constraints.
13. Don't Skip Putting Out Some (Mouth-Watering) Pictures!
Food will undoubtedly be the focus of your brand if you choose to launch your own ghost kitchen business. Therefore, be sure to show it off to your customers. You cannot accomplish it without incorporating delicious food photos, whether you have your own website or app or depend on third-party apps.
The images will set your dishes apart from those of your rivals offering on the same food delivery website. To post images and videos on your website or application, third-party apps, and even social media channels, you should hire an experienced food photographer.
If you don't want to spend on a professional photographer, you can even click the images by yourself.
Here are a few things you can try:
Utilize a plain background so that the dish is the only thing in focus.
Remove unnecessary items such as wine glasses, utensils, and so on because they don't look good on an online ordering menu and cause a distraction.
Use uniform illumination. The food may appear unappetizing due to poor lighting.
Avoid using stock photographs since if the meal doesn't resemble the image, customers won't like it.
14. Weave Quality Into Your Service
Quality is a crucial aspect of any food service business, including ghost kitchens. Customers expect high-quality food and service, and it's up to the ghost kitchen to deliver on those expectations.
Here are a few ways you can ensure top quality in your ghost kitchen service:
(A) Use High-Quality Ingredients
The quality of the ingredients you will use in your ghost kitchen directly impacts the quality of the food you serve. Using fresh, high-quality ingredients can make a significant difference in the taste and presentation of your dishes.
(B) Implement Strict Quality Control Measures
Implementing quality control measures in your ghost kitchen can help ensure that all dishes are prepared, keeping in mind the high standards and regulations.
(C) Train Your Staff to Maintain Quality Service
Proper training is critical in ensuring that your staff provides high-quality service to your customers. It includes training on customer service, food preparation, and presentation, and proper hygiene and safety practices.
(D) Solicit Customer Feedback
Customer feedback can provide valuable insights into the quality of your ghost kitchen's food and service. Also, encourage your customers to leave feedback and use that feedback to improve your offerings.
(E) Continuously Improving
Quality is an ongoing process, and there is always room for improvement. So, you need to continuously evaluate your ghost kitchen's operations, identify areas for improvement, and implement changes to ensure that you consistently deliver high-quality food and service.
15. Make It Extra Easy to Upsell Your Guests
One of the keys to success is making it easy to upsell your guests. Upselling can increase your revenue per order and improve the overall customer experience by suggesting complementary items your guests may enjoy.
By utilizing the following tips, you can still make it easy to upsell your guests in a ghost kitchen setting and increase your overall revenue.
Let's find out:
(A) Use Suggestive Language
When taking orders over the phone or online, use suggestive language to encourage guests to add extra items. For example, "Would you like to add cheesy fries with your burger?" or "Have you tried our loaded nachos yet?- would you add it to your order?"
(B) Use Social Media
Promote your menu items and special deals on social media platforms to reach a wider audience and entice them to try your ghost kitchen.
(C) Bundle Deals Together
Create bundle deals that offer a discount when guests purchase multiple items together. It can encourage guests to try new items and increase your average customer's value.
(D) Upsell With Sides and Extras
Offer add-ons like extra toppings, sides, or drinks to increase the value of each order while also giving customers a better experience.
(E) Highlight Special Discounts and Offers
Make sure to highlight any daily specials or limited-time offers to encourage guests to try something new.
16. Leverage the Power of Your Brand
Your ghost kitchen business requires a strong online presence because you only accept orders online so that people will remember you and place their orders from you. You want your brand to spring to mind when your customer picks up the phone to order lunch or supper. Strong brand experiences can aid in that. As you work on developing a fantastic brand approach for your ghost kitchen business, go back and review your business plan.
Creating a website for your ghost kitchen business is a terrific place to start because, fortunately, most branding takes place online. Your website is where most of your clients will interact with your brand, similar to how the foyer of traditional restaurant functions.
However, it's not the only location to build a memorable brand; in addition to having a website, it's critical to be active on a solid social media presence among your target audience.
QuickTip: Make efforts in such a way that customers can connect with your brand from the moment they first see it online throughout the purchasing process, the time they receive the delivery, and through the course of their meal.
17. Maintain a Robust Presence on Social Media
One of the best and most effective marketing strategies to get customers to your ghost kitchen is raising brand awareness on different social media channels. Therefore, be sure to leverage social media's potential for your company as effectively as feasible.
Utilize social media to represent your brand's voice, interact with your target market, and convert them into potential consumers.
Use social media platforms like Facebook, Instagram, Twitter, and TikTok to display what's going on in your ghost kitchen through photos, videos, and stories, and even let them know about your discounts and loyalty programs (if you have them).
You can also use social media to respond to client feedback and make improvements on the go. So, all in all, social media is a powerful platform to reach out to as many customers as you can while also building a solid brand.
18. Partner With Influencers to Promote Your Brand
Another excellent way to promote your ghost kitchen business and get your brand out there is to collaborate with local food bloggers or influencers.
Instagram and Facebook attract a large number of foodies and are home to a large number of culinary influencers. So, get out there on these platforms and harness the power of influencer marketing.
When the influencers post about your ghost kitchen serving delectable dishes - the audience and potential customers will be appealed to order from you!
Let's understand with an amazing case study: A popular Youtuber, Mr. Beast, owns a ghost kitchen brand, Mr. Beast Burger, and now earns 100 million dollars in revenue by harnessing the power of influencer marketing.
Therefore, get in touch with social media influencers relevant to your target audience and work with them. Influencer marketing is effective, and getting influencers to promote your company to their audience in a local setting is a terrific approach to reaching a specific and devoted clientele.
19. List Your Ghost Kitchen With Review Platforms
Adding your Ghost Kitchen with some of the best Review platforms is the other important thing on your checklist.
But for that, firstly, you need to choose which review platforms you want to register with. Some of the popular options are Yelp, Google Reviews, TripAdvisor, and Facebook. Remember that each platform has its own set of guidelines and requirements, so read them carefully before making a move.
Once you've selected your platforms, you can create a listing for your ghost kitchen. Be sure to include all the important information about your ghost kitchens, such as your location, hours of operation, menu items, and other crucial things. You can also add photos of your food and restaurant space to entice potential customers.
Encourage your customers to leave reviews on the platforms where you've listed your ghost kitchen. Positive reviews can help attract more customers and improve your online reputation. Be sure to respond to positive and negative reviews to show that you value customer feedback and are committed to providing great service.
20. Stay in Touch With Your Customers Through Newsletters & Emails
To ensure your customers return to your ghost kitchen, it's important to stay in touch with them and keep them engaged with your brand. One effective way to do this is through newsletters and emails.
To make it possible, you need to start by collecting email addresses from your customers. Be sure to let customers know what they can expect from your emails, such as special offers, new menu items, or behind-the-scenes updates.
QuickTip: Don't miss chances to entice your customers by letting them know some of the best things they will get through your newsletters.
Now, when it comes to the actual content of your emails, don't be afraid to have some fun. Share behind-the-scenes stories, or let your customers in on upcoming menu items or specials. And, of course, always include mouth-watering photos of your food.
But don't just send emails(whenever you feel like it). You need to come up with a schedule and stick to it.
To Conclude
You are prepared to begin taking orders after you have your menu, branding, and employees in place. If you are looking for more detailed information, check out our ultimate guide on starting a ghost kitchen.
And be patient if things go slowly during the first few days or weeks. It could take a few weeks before you start seeing sales volume. While you're idle, create some social media advertising and engage with regional Instagram food bloggers to help promote your ghost kitchen and bring in orders.
As your orders flow in, keep a watchful eye on what is selling and ask for customer feedback. The adaptability of a ghost kitchen is one of its best features.
If something isn't working, you can immediately change your menu or pivot your business. Be flexible and prepared to introduce new ideas to your kitchen if customer preferences alter or you come up with a new menu idea. Since you've already put in the effort, incorporating your following suggestion will be simple.
However, if you still have questions or are looking to add top-notch technology to your ghost kitchen business, reach out to OVVI and